Yoga and Psychology
Earn your Master's or Doctoral Degree with a concentration in Yoga and Psychology through two week-long residencies each year in the San Francisco Bay Area plus ongoing coursework via Meridian's collaborative online learning platform.
---
This new concentration at Meridian University is infused with the perspectives, approaches, and learning environments unique to Meridian's graduate degrees.
---
In addition to receiving a solid foundation in psychological principles and practice, students in the Yoga and Psychology concentration add the multi-sourced traditions of Yoga to their educational experience, enabling growth as psychological practitioners of the body, soul, and spirit.
This concentration is offered in both Psychology master's and doctoral degree programs. The psychology doctoral programs meet educational eligibility requirements for psychologist licensure in California.
Learning Format
Students in this concentration participate in Meridian's Online Learning Format which consists of collaborative online learning as well as two one-week long residential sessions in the San Francisco Bay area - one in the winter and one in the summer.
Learning Experience and Faculty
At the heart of all its programs, Meridian's approach to learning is rooted in transformative learning praxis. Faculty place a particular emphasis on embodied approaches to both teaching and learning. This embodied pedagogy draws from scholarly research on the lived experience of the body as a legitimate but marginalized source of knowledge.
The cultivation of deeper access to embodied knowledge presents the opportunity to develop an authoritative understanding of the body as a source of transformative capability. Because the body features prominently in the articulation of social difference, helping students become more attentive to the embodied interactions in the classroom also supports more skillful navigation of subtle nuances in personal and professional relationships.
Faculty in the Yoga and Psychology concentration are well-versed in teaching both in and through the body. This commitment is reflected in their own posture, quality of presence, and teaching strategies.
Eleanor Criswell - Concentration Director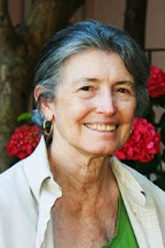 Eleanor received her Bachelor's and Master's from the University of Kentucky and her Doctorate from the University of Florida. She has been a professor of psychology at Sonoma State University since 1969 and has formerly been its Chairperson. She is the editor of the journal Somatics and the Director of the Novato Institute for Somatic Research and Training. As a Counseling Psychologist, she maintains a private practice in psychotherapy and somatics and is the author of Somatic Yoga and Somatics and Biofeedback.
Core Faculty
Sophia Reinders received her Master's and Doctorate from Saybrook Institute. She is a licensed Marriage and Family Therapist and has been practicing in San Francisco for over 20 years. Her interests include expressive arts and Somatic Psychology.
Get More Information
Sign up below to receive more information about this new concentration from a Meridian Admissions Advisor.