Choosing the most suitable career path for you after earning your Master of Business Administration (MBA) degree is a difficult endeavor. Many people might feel anxious due to the pressure of trying to make the best choice.
With a large variety of opportunities and industries to consider, it's essential to pinpoint your passions and strengths, as well as consider your long-term objectives.
In this article, we'll take a close look at various MBA career paths, key factors to think about, and insights to help you make the best decision for your future.
MBA Career Paths: How to Choose the Right One for You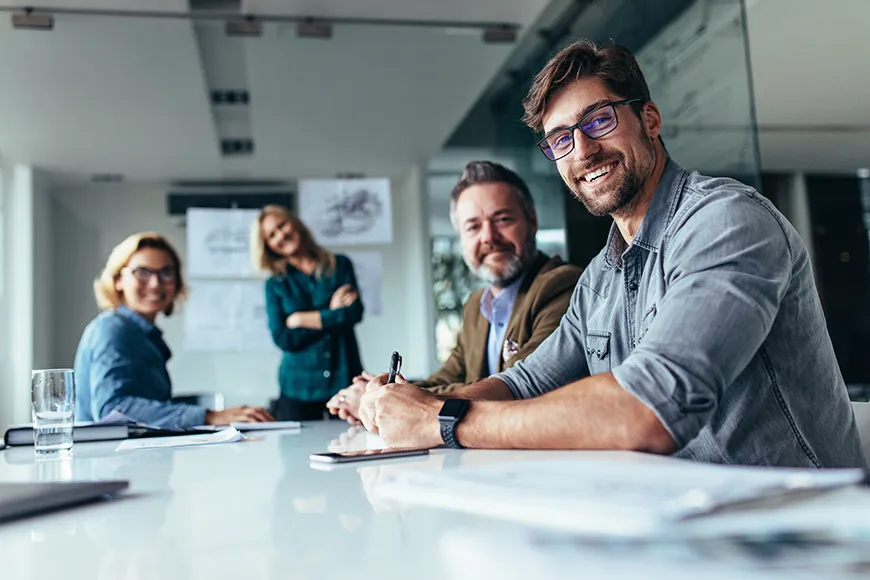 Before you venture into specific MBA career paths, it's critical to understand your interest, strengths, and the work environment that suits you best. Reflect on your journey through your MBA program and bachelor's degree, as well as any internships or professional experiences you've had. Which courses captured your attention the most? Were there any projects or topics that made you enthusiastic? Grasping your preferences will empower you to sift through the diverse opportunities available to MBA graduates.
Assessing Your Strengths and Weaknesses
In order to help with the process of choosing your career path, it's essential to understand your strengths and weaknesses. To achieve that, consider the following methods and examples:
Personality Tests: Tools like Myers-Briggs Type Indicator (MBTI) and The BIG FIVE are personality tests that can provide insights into your personality, strengths, and potential career matches.¹⁻²
Career Counseling: Many universities and business schools offer career counseling services to help MBA students and alums identify their career paths. Professional career counselors can provide personalized advice and guidance based on your background, interests, and goals.
Networking with MBA Alums: Connect with alums from your MBA program to gain insights into various MBA career paths. Your colleagues could work in a wide range of industries and might be able to help you with useful information. They may even provide you with a recommendation for a position.
Factors to Consider When Choosing a Career Path
Work-life balance
Evaluate how the various MBA career paths align with your desired lifestyle. A 2016 study published in the Academy of Management Perspectives found that work-life balance is essential for MBA graduates when choosing a job. Consider the demands of each career path, including working hours, travel requirements, and flexibility.³
Compensation and growth potential
Compare salaries, growth opportunities, and job stability. The Graduate Management Admission Council's (GMAC) 2021 Corporate Recruiters Survey found that MBA graduates enjoy a higher salary compared to bachelor's degree holders. Additionally, the survey reported that 92% of corporate recruiters planned to hire MBA graduates.
Opportunities for advancement
Pursue career paths that provide you with numerous prospects for growth and advancement in both professional responsibilities and leadership capacities. An MBA degree provides you with a wide array of skills and expertise, which can be utilized in numerous sectors. Thus it is crucial to consider roles that enable you to leverage these assets.
According to a report by Harvard Business Review, graduates of prestigious MBA programs frequently secure roles that fast-track them toward leadership or management positions. This is no coincidence, as employers anticipate that these graduates possess the academic, interpersonal, and leadership skills required to tackle intricate business challenges.
A few examples of high-level positions that MBA graduates may attain include executive management roles, such as chief financial officer, chief marketing officer, or managing consultant.
Company cultures and values
Find organizations that align with your values and offer a supportive work environment. A 2017 study published in the Journal of Business Ethics found that MBA graduates prioritize corporate social responsibility and ethical considerations when choosing an employer. Look for companies that demonstrate a commitment to employee well-being, diversity, and sustainability.⁴
Which MBA is most in demand?
According to GMAC's corporate survey, the MBAs that are in the most demand are related to finance, consulting, and information technology. However, some areas are more popular than others within these three industries. For example, within the finance industry, venture capital is a popular career path for MBA graduates seeking to invest in high-growth startups and help entrepreneurs scale their businesses.
Pursuing an MBA degree is a significant investment, and understanding the most sought-after specializations can help individuals make informed decisions about their future MBA career paths. Here's a more in detail explanation of a possible career path related to each industry that we've mentioned:
Investment Banking
Investment banking is a popular choice among MBA graduates seeking high-stakes, fast-paced careers in finance. Investment bankers work on mergers, acquisitions, and raising capital for companies. They often serve as intermediaries between investors and corporations, helping to facilitate large financial transactions.
Investment bankers are known for their high earning potential. According to data from Payscale (2023), the median average salary is $119,117 per year. Nevertheless, they can also earn significantly more, with starting salaries often exceeding the median salary and bonuses adding to the total compensation package.
Ruth Porat, CFO of Alphabet Inc, is an inspiring example of an MBA graduate succeeding in investment banking. Porat earned her MBA from the Wharton School of the University of Pennsylvania and held various positions at Morgan Stanley before joining Alphabet, which is a company at the forefront of innovation and technology.
Alphabet Inc, the parent company of Google and numerous other subsidiaries, significantly influences the global economy and technological advancements. As CFO of Alphabet, Porat plays a crucial role in overseeing the financial health and growth of the organization.
Her MBA education at the Wharton School may have contributed to her ability to navigate the complex financial landscape of such a large and diversified company. The skills and knowledge gained from her MBA programs, such as strategic thinking, financial management, and leadership, would have been instrumental in her ability to make informed decisions and guide the company toward continued success.
Management Consulting
Management consulting is an attractive career path for MBA graduates who enjoy solving complex problems and helping organizations improve their performance. Management consultants work with clients across various industries, offering strategic advice and solutions.
Management consultants also enjoy competitive salaries. According to Payscale (2023), the average salary of a management consultant is $92,279 per year.
Indra Nooyi, the former CEO of PepsiCo, can provide inspiration to aspiring management consultants. Nooyi earned her MBA from Yale School of Management and started her career in management consulting, working at the Boston Consulting Group (BCG) and later ABB before joining PepsiCo. She mentions in various interviews that her MBA education played a significant role in honing her strategic thinking and leadership skills, contributing to her success in management consulting and later roles.
Product Management
Product management is excellent for MBA graduates interested in technology and innovation. Product managers drive the development and success of tech products by guiding cross-functional teams through the product life cycle, from conception to launch and beyond.
Product managers also enjoy attractive compensation packages. According to Glassdoor, the national average salary for a product manager in the United States was $128,228  in 2021.
An inspiring example of a product manager is Phil Schiller, an Apple Fellow and former Senior Vice President of Worldwide Marketing at Apple. Schiller earned his MBA from Babson College and played a crucial role in developing and marketing various Apple products, including the iPhone, Ipad, and Mac.
Which MBA job has the highest salary?
Based on the Bureau of Labor Statistics, some of the highest-paying MBA-related positions are in IT and systems management, financial management, marketing management, and human resources management. As of 2021, the median salaries of these jobs were all over $125,000.
The salaries for these positions are higher on average because they necessitate a high degree of proficiency and expertise, allowing professionals to address complex issues and make strategic decisions that substantially impact their organizations. An MBA equips individuals with an in-depth understanding of business operations and strategies, rendering them invaluable assets to their companies.
As a result, businesses are prepared to offer competitive compensation packages to recruit and retain exceptional talent in these crucial management positions.
How to choose an MBA specialization?
Choosing an MBA specialization is a personal decision that is dependent on your career goals, interests, and desired lifestyle. Simply choosing a specialization because a particular career is in demand or well-paid could be a safe option. However, it's not the safety of a particular job nor the money we earn that makes our work fulfilling, but the alignment between our work and our life's purpose or meaning.
Viktor Frankl, a renowned Austrian Psychiatrist, and Holocaust survivor, wrote the book "Man's Search for Meaning" to question and lay out our fundamental human motivations. He aimed to determine what could enable a person to endure the most extreme environments and dire circumstances.
Drawing from his personal experiences in the Holocaust and the observations he made during that period, Frankl found a quote by Friedrich Nietzsche, a prominent German philosopher, particularly relevant in describing his own conclusions:
"He who has a why to live for can bear with almost any how." - Friedrich Nietzsche.
Frankl emphasized that finding meaning in one's life is the key to resilience and survival, even in the harshest conditions.
Regardless of whether you align your MBA education with a career in the field of sales management, or you want to become a financial analyst or reach the heights of project management, let meaning help you make your decisions.
Choosing a meaningful path may steer you away from traditional careers and toward entrepreneurship. Often, deep introspection leads individuals to discover a unique career trajectory that aligns with their beliefs and ambitions, one that may not exist yet. This journey of carving a unique path through entrepreneurship and impactful leadership can seem daunting, which is why many people hesitate to consider it.
However, those who dare to pursue their vision and persist despite challenges find themselves living a life filled with purpose. Entrepreneurship in this context isn't about creating the next tech giant. It implies staying true to your own values and aspirations and making them a reality through a business venture.
Here at Meridian University, we aim to empower our students through our Creative Enterprise MBA to excel in traditional business roles as well as become successful entrepreneurs.
Our MBA is designed to equip you with core business skills such as finance, marketing, and operations, but it goes beyond that. It encourages creativity, innovation, and purpose-driven leadership.
The curriculum addresses the complexities inherent in both enhancing business performance and launching a new enterprise by focusing on five key dimensions:
Transforming business innovation
Regenerating the commons
Empowering companies and non-profits through living systems
Actualizing generative entrepreneurship
We also want to give students the support they need to pursue their goals. That's why we offer Meridian University's Impact Scholarships.
These scholarships, such as the Meridian Social Entrepreneurship Scholarship or the Meridian Developmental Coaching Scholarship, aim to help students in chasing their ambitions and make a change in the world.
If you are interested in learning more to help you decide whether our MBA in Creative Enterprise could aid you in pursuing a meaningful career path, email an Admissions Advisor to learn more about our programs.
References:
Capraro, R. M., & Capraro, M. M. (2002). Myers-briggs type indicator score reliability across: Studies a meta-analytic reliability generalization study. Educational and Psychological Measurement, 62(4), 590-602.
Barrick, M. R., & Mount, M. K. (1991). The big five personality dimensions and job performance: a meta‐analysis. Personnel psychology, 44(1), 1-26.
Greenhaus, J. H., & Allen, T. D. (2011). Work–family balance: A review and extension of the literature.
Choi, D., Chung, C. Y., & Young, J. (2019). An economic analysis of corporate social responsibility in Korea. Sustainability, 11(9), 2676.