Welcome back to the Integral Voices podcast, produced by Meridian University's Center for Transformative Learning
Browse the archive below and sign up for the email list to stay up to date on our latest episodes.
Sign up to stay up-to-date!
---
About Integral Voices
"Things fall apart; the center cannot hold" wrote Yeats about 100 years ago in his poem "The Second Coming." While in the deafening incoherence of an unraveling center, inquiring and transforming conversations necessarily move to the edge. Edges are associated with danger, crisis, complexity, possibility, the unknown, and unknowable. We are now in edge times as never before.

Protected from the noise, a dialogic commons is a place that nurtures generative listening. A listening where the powers of resonance foster the emergence of creative imagination and a re-sacralizing coherence. Integral Voices convenes dialogues at evolving edges to catalyze a renaissance of real human development and the seeding of possible worlds.

Integral Voices is produced by the Center for Transformative Learning at Meridian University.
---
Latest Episodes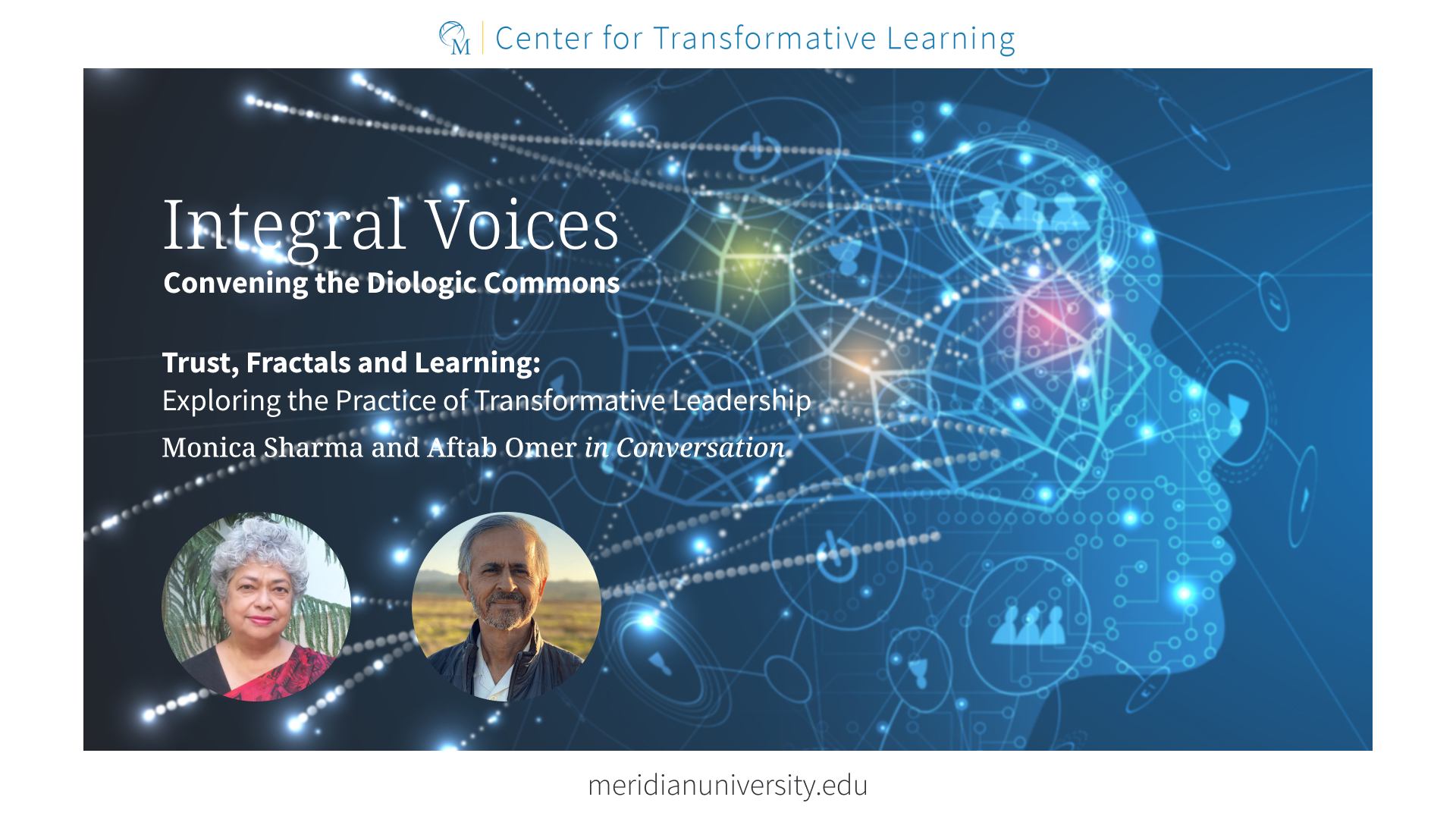 What makes leaders trustworthy? How can cultural and system transformation be scaled? How do transformative leaders serve by engaging worldviews? In this conversation between Monica Sharma and Aftab Omer they identify some of the capabilities required for transformative leaders to systemically engage the fragilities and possibilities of our time.
---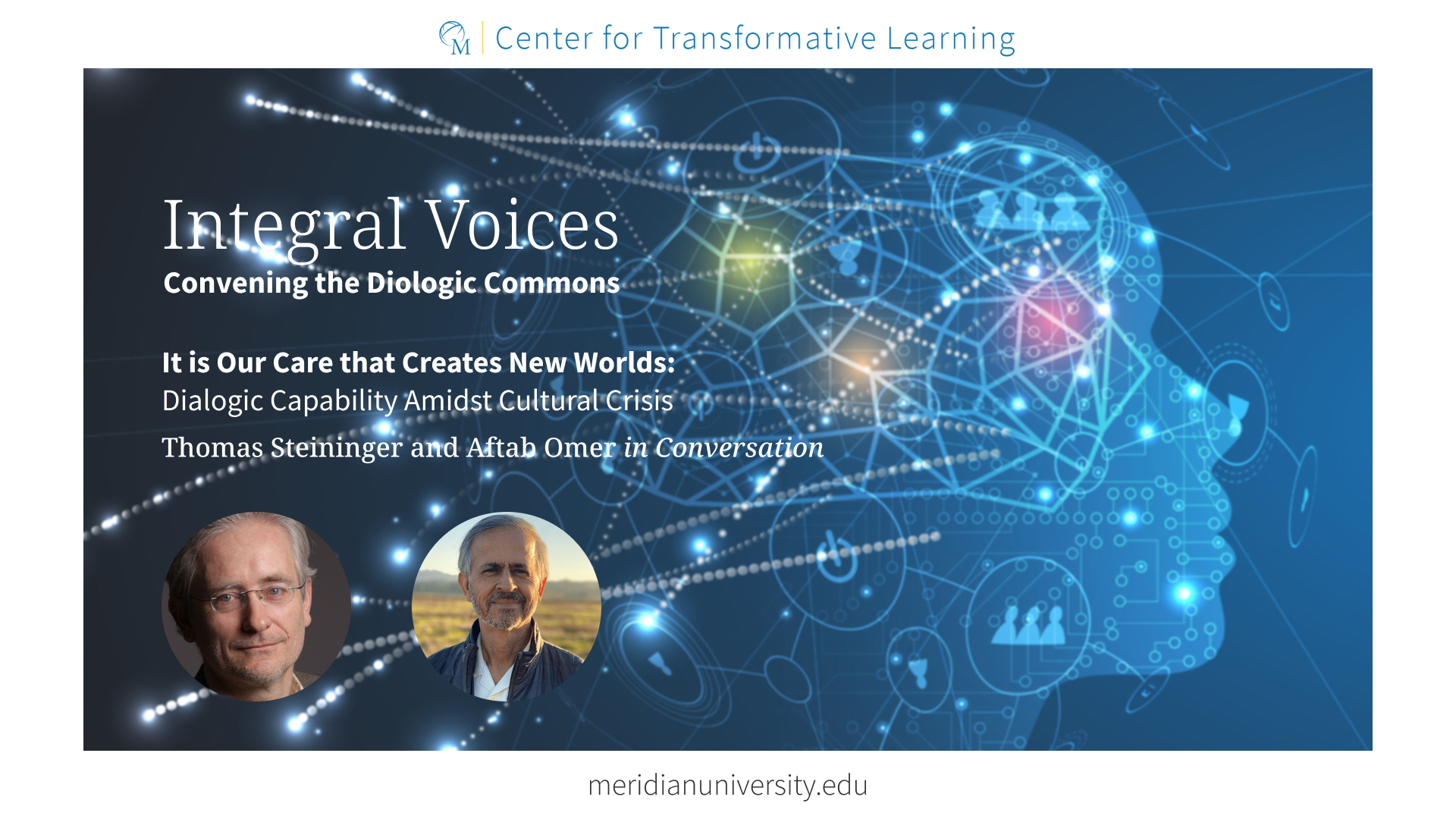 Can we respond to the multi-dimensional crises of our time with a different kind of speaking and listening? Can we protect and preserve the great storehouse of ideas, stories and practices embedded in human cultures? In this conversation between Thomas Steininger and Aftab Omer, they explore the power of dialog to deepen democracy and transform culture so that the great transmission of human capacities may endure.
---
Previous Featured Speakers Include
---
Previous Conversations
Revisioning Entrepreneurship: Generativity, Indigeneity and the Feminine

Thursday, September 24, 2020

In this expansive and heartful conversation, Nina Simons and Aftab Omer explore the shadows and possibilities of entrepreneurship. Holding a vision of local interdependence and generative globalization, they discuss how transformative innovation gathers social, technological and cultural dimensions in ways that regenerate the commons.

Aftab Omer

Aftab Omer, Ph.D. is a sociologist, psychologist, futurist and the president of Meridian University. Raised in Pakistan, India, Hawaii, and Turkey, he was educated at the universities of M.I.T, Harvard and Brandeis. His publications have addressed the topics of transformative learning, cultural leadership, generative entrepreneurship and the power of imagination. His work includes assisting organizations in tapping the creative potentials of conflict, diversity, and complexity. Formerly the president of the Council for Humanistic and Transpersonal Psychologies, he is a Fellow of the International Futures Forum and the World Academy of Arts and Sciences.

---

Nina Simons

Nina Simons is an award-winning social entrepreneur and visionary thinker. In 1990, she co-founded Bioneers with her husband and partner, Kenny Ausubel. Over that time she has helped to lead the organization through 29 years of identifying, gathering and disseminating breakthrough innovations that reveal a positive and life-honoring future that's within our grasp, today.

Nina's work currently focuses on writing, speaking and teaching about women, leadership, diversity, nature, systems thinking, leading from the heart, and restoring the feminine in us all. She is the founder of Bioneers' Everywoman's Leadership Program and co-created the Cultivating Women's Leadership residential trainings in collaboration with Toby Herzlich and Akaya Windwood.

The Great Conductor and the Black Hole

Thursday, August 27, 2020

In this wide-ranging and emergent conversation, Thomas Hubl and Aftab Omer explore collective trauma, social healing, and the ways in which scientific inquiry and mystical understanding inform the challenging work of collective trauma practitioners. Aftab and Thomas share their reflections on related themes including the COVID-19 pandemic, collective presencing, the intimate internet, and the power of creative surrender.

Aftab Omer

Aftab Omer, Ph.D. is a sociologist, psychologist, futurist and the president of Meridian University. Raised in Pakistan, India, Hawaii, and Turkey, he was educated at the universities of M.I.T, Harvard and Brandeis. His publications have addressed the topics of transformative learning, cultural leadership, generative entrepreneurship and the power of imagination. His work includes assisting organizations in tapping the creative potentials of conflict, diversity, and complexity. Formerly the president of the Council for Humanistic and Transpersonal Psychologies, he is a Fellow of the International Futures Forum and the World Academy of Arts and Sciences.

---

Thomas Hubl

Thomas Hübl is a modern mystic, a spiritual teacher whose work integrates the essence of the great traditions of wisdom with scientific knowledge and his own personal experience. Since 2004, Thomas' work has spread worldwide, through workshops, multiyear training programs, online courses, and the Celebrate Life Festival, which raises funds for charity and brings together more than 1,500 people annually. In 2008, he founded the Academy of Inner Science (AIS) as a framework for research on the Mystical Principles that underlie our everyday realities. Over the years, Thomas has led several Healing Events that brought together thousands of Germans with Israelis to acknowledge, face, and heal the cultural shadow left by the Holocaust. In 2016, Thomas founded the Pocket Project, a non-for-profit, with the aim of spreading his work to help stop the vicious cycle of recurring collective trauma and ultimately integrate and reduce its effects in our global culture.

A New Republic of the Heart

Wednesday, December 13 from 11:00 a.m.–12:00 p.m. PST

Join Meridian faculty Terry Patten in conversation with Meridian's Chancellor, Jean Houston, as they discuss Terry's new book, A New Republic of the Heart.

Jean Houston

The Chancellor of Meridian University, Dr. Houston is a visionary researcher who has authored nearly 30 books and worked intensively in over 40 cultures, lectured in over 100 countries, and worked with major organizations such as UNICEF and NASA. Dr. Houston has developed a worldwide network of leaders including Joseph Campbell, Margaret Mead, Buckminster Fuller, Jonas Salk, US presidents Jimmy Carter and Bill Clinton, as well as US Secretary of State Hillary Clinton, giving her unique insight into the human potential. Dr. Houston's book, A Passion for the Possible, was an expansive compliment to her inspiring PBS special of the same name. Dr. Houston has served on the faculties of Columbia University, Hunter College, Marymount College, The New School for Social Research, and the University of California. She holds doctoral degrees in both psychology and religion. Since 2002, Dr. Houston has been working with the United Nations Development Program, training leaders in developing cultures throughout the world in the field of Social Artistry.

---

Terry Patten

Terry Patten, Meridian Faculty, received his Master's from John F. Kennedy University. Terry is a leading integral philosopher, teacher, activist, consultant, coach, social entrepreneur, and author. He was the senior writer and co-author, with Ken Wilber, of Integral Life Practice. His most recent book is the bestseller, A New Republic of the Heart: An Ethos for Revolutionaries. Download a free audio and pdf excerpt here.

The Power of Transformative Communities of Practice as an Evolutionary Force

Wednesday, December 13 from 11:00 a.m.–12:00 p.m. PST

Join Meridian faculty member and collective intelligence pioneer George Pór in conversation with Meridian President Aftab Omer and organizational design consultant Mike McMaster, as they discuss the power of transformative communities of practice as an evolutionary force.

George Pór

George Pór is a strategic learning partner to visionary leaders in business, government, and civil society; an evolutionary agent and Teal mentor, facilitating vertical development in people and organizations. He is a researcher in collective intelligence, the founder of CommunityIntelligence and Enlivening Edge, an online magazine and movement hub.

---

Aftab Omer

Aftab Omer, Ph.D. is a sociologist, psychologist, futurist and the president of Meridian University. Raised in Pakistan, India, Hawaii, and Turkey, he was educated at the universities of M.I.T, Harvard and Brandeis. His publications have addressed the topics of transformative learning, cultural leadership, generative entrepreneurship and the power of imagination. His work includes assisting organizations in tapping the creative potentials of conflict, diversity, and complexity. Formerly the president of the Council for Humanistic and Transpersonal Psychologies, he is a Fellow of the International Futures Forum and the World Academy of Arts and Sciences.

---

Michael McMaster

Michael McMaster is a consultant to organizations large and small, public and private, and the author of several books on organizational intelligence. He studied Complex Adaptive Systems at the Santa Fe Institute, which is the basis of his current work, along with applying the "transformative" meme to business.

Art and Culture in Integral Development

Monday, November 20, 2017 from 12–1 PM PST

Jean Houston in conversation with Rama Mani and Alexander Schieffer

Jean Houston

The Chancellor of Meridian University, Dr. Houston is a visionary researcher who has authored nearly 30 books and worked intensively in over 40 cultures, lectured in over 100 countries, and worked with major organizations such as UNICEF and NASA. Dr. Houston has developed a worldwide network of leaders including Joseph Campbell, Margaret Mead, Buckminster Fuller, Jonas Salk, US presidents Jimmy Carter and Bill Clinton, as well as US Secretary of State Hillary Clinton, giving her unique insight into the human potential. Dr. Houston's book, A Passion for the Possible, was an expansive compliment to her inspiring PBS special of the same name. Dr. Houston has served on the faculties of Columbia University, Hunter College, Marymount College, The New School for Social Research, and the University of California. She holds doctoral degrees in both psychology and religion. Since 2002, Dr. Houston has been working with the United Nations Development Program, training leaders in developing cultures throughout the world in the field of Social Artistry.

---

Rama Mani

Rama received her Bachelor's from Bryn Mawr College, her Master's from Johns Hopkins University, and her Doctorate from the University of Cambridge. She is Co-Founder of Rising Women Rising World. She has headed local and international organizations addressing conflict and injustice, and acted as strategic advisor or Board director to foundations dealing with peace building, democracy and governance. She is the author of the book, Beyond Retribution: Seeking Justice in the Shadows of War and co-editor of the book, The Responsibility to Protect: Cultural Perspectives in the Global South.

---

Alexander Schieffer

Alexander received his Doctorate from the University of St. Gallen. He founded CELL: Center of Excellence for Leadership and Learning, a consultancy specializing in innovative design, leadership and transformation. He co-founded TRANS4M, a new Center for Integral Development with a focus on transformational education and innovative research. He is widely published in both academic and literary works. He has co-authored the books, Transformation Management: Towards the Integral Enterprise, Integral Research and Innovation, Integral Economics, and Integral Dynamics.

Power, Authority, and Accountability in Organizational Life

Wednesday, May 31, 2017 from 11am - 12pm PDT

Frederic LaLoux and Aftab Omer in Conversation

Frederic LaLoux

Frederic Laloux works as an adviser, coach, and facilitator for corporate leaders who feel called to explore fundamentally new ways of organizing. A former Associate Partner with McKinsey & Company, Laloux holds an MBA from INSEAD, and a degree in coaching from Newfield Network in Boulder, Colorado. He has traveled widely and speaks five languages fluently. Frederic Laloux lives in Ithaca, NY, USA, where he is blessed to share his life with his wife, Hélène, and their two children.

---

Aftab Omer

Aftab Omer, Ph.D. is a sociologist, psychologist, futurist and the president of Meridian University. Raised in Pakistan, India, Hawaii, and Turkey, he was educated at the universities of M.I.T, Harvard and Brandeis. His publications have addressed the topics of transformative learning, cultural leadership, generative entrepreneurship and the power of imagination. His work includes assisting organizations in tapping the creative potentials of conflict, diversity, and complexity. Formerly the president of the Council for Humanistic and Transpersonal Psychologies, he is a Fellow of the International Futures Forum and the World Academy of Arts and Sciences.

Mut zum Fühlen (Courage to Feel)

Thursday, May 4, 2017 from 11am - 12pm PDT

Raymond Fismer, Vivian Dittmar, and Martin Bruders in Conversation

Raymond Fismer

Raymond Fismer is a physicist and long-time practitioner in adult education, relationship counseling, ecological engineering, and NGO finance management. He has worked extensively as a researcher and workshop leaders on masculine development. He is the lead organizer for the Integrales Forum's upcoming Conference in June 2017.

---

Vivian Dittmar

Vivian Dittmar is the author of The Power of Feelings, founder of the Be the Change Foundation for Cultural Transformation and appreciated as an original thinker on emotional intelligence. Growing up on three continents in very different cultures gives Vivian a unique take on what it means to be human.

---

Martin Bruders

Martin Bruders is a certificated social worker, mediator and coach and has been working as a comedian in events for more than 2000 companies in Germany, Austria and Switzerland for 28 years. He is creator of the Integral Roadshow an infotainment show about the integral model of Ken Wilber and co-founder of the Institute for Global Integral Competence (IfGIC) and Innerplace Berlin. He is father of four children in the age of 14-21 years. Martin loves to deepen his self-exploration both through meditation as well as through daily-life. For the past ten years he has studying intensively with the Spiritual teacher Thomas Hübl.

Understanding Leadership and Social Transformation

Tuesday, May 2, 2017 from 11am - 12pm PDT

Don Beck and Jean Houston in Conversation.

Don Beck

Dr. Don Beck is the leading authority on societal change, Large-Scale psychology and cultural emergence. Dr. Beck has elaborated upon the work of his mentor, Clare W. Graves, to develop a multidimensional model for understanding the evolutionary transformation of human values and cultures. As cofounder of the National Values Center in Denton, Texas, and CEO of the Spiral Dynamics Group, Inc., Dr. Beck is employing the Spiral Dynamics model to effect large-scale systems change in and among various sectors and societies of the world.

---

Jean Houston

The Chancellor of Meridian University, Dr. Houston is a visionary researcher who has authored nearly 30 books and worked intensively in over 40 cultures, lectured in over 100 countries, and worked with major organizations such as UNICEF and NASA. Dr. Houston has developed a worldwide network of leaders including Joseph Campbell, Margaret Mead, Buckminster Fuller, Jonas Salk, US presidents Jimmy Carter and Bill Clinton, as well as US Secretary of State Hillary Clinton, giving her unique insight into the human potential. Dr. Houston's book, A Passion for the Possible, was an expansive compliment to her inspiring PBS special of the same name. Dr. Houston has served on the faculties of Columbia University, Hunter College, Marymount College, The New School for Social Research, and the University of California. She holds doctoral degrees in both psychology and religion. Since 2002, Dr. Houston has been working with the United Nations Development Program, training leaders in developing cultures throughout the world in the field of Social Artistry.

Wisdom and Whole Systems Transformation

Tuesday, April 25, 2017 from 11am - 12pm PDT

Roger Walsh and Jean Houston in Conversation

Roger Walsh

Roger Walsh, M.D., Ph.D. DHL. graduated from Australia's Queensland University with degrees in psychology, physiology, neuroscience, and medicine, and then came to the United States as a Fulbright Scholar. He is now at the University of California at Irvine where he is professor of psychiatry, philosophy, and anthropology, as well as a professor in the religious studies program. His books include: Paths Beyond Ego (one of Common Boundary's "Most Influential Books"), Meditation: Classic and Contemporary Perspectives ("Outstanding Academic Book of the Year Award"), Essential Spirituality: The Seven Central Practices with a foreword by The Dalai Lama, and The World of Shamanism. He is currently editing The World's Great Wisdom: What Sages Say about Living Wisely and Well.

---

Jean Houston

The Chancellor of Meridian University, Dr. Houston is a visionary researcher who has authored nearly 30 books and worked intensively in over 40 cultures, lectured in over 100 countries, and worked with major organizations such as UNICEF and NASA. Dr. Houston has developed a worldwide network of leaders including Joseph Campbell, Margaret Mead, Buckminster Fuller, Jonas Salk, US presidents Jimmy Carter and Bill Clinton, as well as US Secretary of State Hillary Clinton, giving her unique insight into the human potential. Dr. Houston's book, A Passion for the Possible, was an expansive compliment to her inspiring PBS special of the same name. Dr. Houston has served on the faculties of Columbia University, Hunter College, Marymount College, The New School for Social Research, and the University of California. She holds doctoral degrees in both psychology and religion. Since 2002, Dr. Houston has been working with the United Nations Development Program, training leaders in developing cultures throughout the world in the field of Social Artistry.

Systemic Constellations in Integral Practice

Thursday, April 6, 2017 from 11:00 a.m. - 12:00 p.m. PT

A conversation with Rainer Leoprechting

Rainer Leoprechting

Originally from Trier, Germany, Rainer now lives in Austria with the rural Obenaus Community he co-founded, where people connect with their inner and outer nature. He initiated and co-hosts the Next-Stage.World gathering for organization re-inventors, consults with leadership and project teams and develops internet matches that align the developmental context of individuals and organizations. Before that, he worked in Brussels with the European Commission from 1994 to 2012, where he founded and led an in-house consulting service. In his work, Rainer combines Art of Hosting practices, Systemic Constellation Work, Action Learning, and process consultation along with his own process innovations. He presented recently at the Integral European Conference and will be co-leading self-organizing processes for this conference again, this year.

Emergent Dialogues as an Integral Practice

Wednesday, April 5, 2017 from 11:00 a.m. - 12:00 p.m. PT

Elizabeth Debold and Thomas Steininger in conversation

Elizabeth Debold, Ed.D.

Elizabeth is the founder of One World in Dialogue, a virtual space for learning and cross-cultural connection from the emergent awareness of unity in diversity and diversity in unity. She is also one of the world's foremost authorities on gender development and author of the bestselling Mother Daughter Revolution (Addison-Wesley, 1993; Bantam, 1994). For the past four decades, she has committed herself to the potential of an emergent consciousness that transcend and include deep social differences through her work as an activist, researcher, journalist, spiritual explorer, and transformative educator. She is currently on the Faculty of Education at Meridian University and an editor of the German-language evolve magazine. She lives in Frankfurt.

---

Thomas Steininger, Ph.D.

Thomas studied philosophy at the University of Vienna, specializing in consciousness and social evolution using the work of Heidigger and Wilber. He worked for the Austrian Radio (OE1) and as a freelance journalist and is the founder of the German magazine, evolve. He also hosts the weekly web-broadcast, Radio evolve. Thomas taught at the Master's program for Conscious Evolution at The Graduate Institute. He has pioneered the development of the Emerge Dialogue process, a new consciousness-aware collective process for creative engagement.

Leadership, Well-Being, and Social Transformation

Tuesday, January 31, 2017 from 10:15 a.m. - 11:15 a.m. PT

Jean Houston

The Chancellor of Meridian University, Dr. Houston is a visionary researcher who has authored nearly 30 books and worked intensively in over 40 cultures, lectured in over 100 countries, and worked with major organizations such as UNICEF and NASA. Dr. Houston has developed a worldwide network of leaders including Joseph Campbell, Margaret Mead, Buckminster Fuller, Jonas Salk, US presidents Jimmy Carter and Bill Clinton, as well as US Secretary of State Hillary Clinton, giving her unique insight into the human potential. Dr. Houston's book, A Passion for the Possible, was an expansive compliment to her inspiring PBS special of the same name. Dr. Houston has served on the faculties of Columbia University, Hunter College, Marymount College, The New School for Social Research, and the University of California. She holds doctoral degrees in both psychology and religion. Since 2002, Dr. Houston has been working with the United Nations Development Program, training leaders in developing cultures throughout the world in the field of Social Artistry.

---

Rick Hanson, Ph.D

Rick Hanson, Ph.D., is a psychologist, Senior Fellow of the Greater Good Science Center at UC Berkeley, and New York Times best-selling author. His books are available in 26 languages and include Hardwiring Happiness, Buddha's Brain, Just One Thing, and Mother Nurture. He edits the Wise Brain Bulletin and has numerous audio programs. A summa cum laude graduate of UCLA and founder of the Wellspring Institute for Neuroscience and Contemplative Wisdom, he's been an invited speaker at NASA, Oxford, Stanford, Harvard, and other major universities, and taught in meditation centers worldwide. His work has been featured on the BBC, CBS, and NPR, and he offers the free Just One Thing newsletter with over 120,000 subscribers, plus the online Foundations of Well-Being program in positive neuroplasticity that anyone with financial need can do for free.

Experiencing the Here and Now at Each Developmental Level

Wednesday, August 17, 2016 from 12:00 - 1:00 p.m. PT

Conversation with Terri O'Fallon & Kim Barta

Developmental levels can sometimes be seen as conceptualization of various world-views. Yet there are distinct clues of how each stage can be experienced in the here and now with direct perception or awareness. In this conversation Terri O'Fallon and Kim Barta will explore together 12 developmental levels and each one's capacity to be experienced and expressed directly in the here and now, emerging from concreteness, to subtleness to MetAware.

Terri O'Fallon

A Meridian Faculty member, Terri is a researcher, a coach, a spiritual director and has 52 years of teaching all age groups from early childhood through post PHD. Her research, which arises out of embodied experience, inter-observations, evolutionary grammar and semiotics, integrates ego development with Integral theory, resulting in a periodic matrix of consciousness. Terri presently teaches and consults internationally. She has a MS in Special Education, a MA in Spiritual Direction and a PHD in Integral Studies with a concentration inTransformative Learning and Change.

---

Kim Barton, M.A.

Kim is an internationally recognized licensed professional psychotherapist, coach, spiritual guide, and speaker. His work and insights spring from grounded experimental practice with self and others in his cross-cultural and life long experiences. Kim graduated with a B.A. in Cultural Anthropology from the University of Montana in 1984. He pursued a Masters in an interdisciplinary program that combined Psychology, Social Work, Counseling, and Sociology in a broad perspective for healing. Currently, Kim has teamed up with Dr Terri O'Fallon to present workshops and trainings internationally in a new model of human development designed and researched by Dr. O'Fallon. Kim's developmental learning theory fits lock and key with Dr O'Fallon's Stages model and his extensive history in clinical human dynamics provides a grounded passion to the workshop experience.

Integral Voices Berlin: A Dialogue on Sharing Worlds

Monday, May 2, 2016 from 9:00 - 9:45 a.m. PT

Conversation with symposium facilitators and contributors Elizabeth Debold, Mike Kauschke, Thomas Steininger, and symposium conveners Aftab Omer and Martin Michaelis

Take part in this online series of conversations building up to the Imagination and Social Healing Symposium in Berlin. The second conversation in this series will be a dialogue between symposium facilitators and contributors on Shared Worlds. This conversation is part of: Integral Voices: Berlin

Elizabeth Debold, Ed.D.

Elizabeth is the founder of One World in Dialogue, a virtual space for learning and cross-cultural connection from the emergent awareness of unity in diversity and diversity in unity. She is also one of the world's foremost authorities on gender development and author of the bestselling Mother Daughter Revolution (Addison-Wesley, 1993; Bantam, 1994). For the past four decades, she has committed herself to the potential of an emergent consciousness that transcend and include deep social differences through her work as an activist, researcher, journalist, spiritual explorer, and transformative educator. She is currently on the Faculty of Education at Meridian University and an editor of the German-language evolve magazine. She lives in Frankfurt.

---

Mike Kauschke

Mike is managing editor of evolve magazine for consciousness and culture, and also works as a translator of books about an integral worldview and spiritual transformation. Mike Kauschke practiced and studied Zen-Buddhism with teachers in Europe and USA and worked in hospice care. He has studied integral theory and evolutionary spirituality for over 10 years and is a trained facilitator of the "emerge dialogue process".

---

Thomas Steininger, Ph.D.

Thomas studied philosophy at the University of Vienna, specializing in consciousness and social evolution using the work of Heidigger and Wilber. He worked for the Austrian Radio (OE1) and as a freelance journalist and is the founder of the German magazine, evolve. He also hosts the weekly web-broadcast, Radio evolve. Thomas taught at the Master's program for Conscious Evolution at The Graduate Institute. He has pioneered the development of the Emerge Dialogue process, a new consciousness-aware collective process for creative engagement.

Integral Voices Berlin: Introduction to the Imagination and Social Healing Symposium

Friday, April 29, 2016 from 10:00 - 11:00 a.m. PT

Conversation with conveners Aftab Omer and Martin Michaelis on the upcoming participatory symposium in Berlin

Take part in this online series of conversations building up to the Imagination and Social Healing Symposium in Berlin. The first conversation in this series will be with conveners Aftab Omer and Martin Michaelis. This conversation is part of: Integral Voices: Berlin

Aftab Omer, Ph.D.

A sociologist, psychologist, futurist and the president of Meridian University. Raised in Pakistan, India, Hawaii, and Turkey, he was educated at the universities of M.I.T, Harvard and Brandeis. His publications have addressed the topics of transformative learning, cultural leadership, generative entrepreneurship and the power of imagination. His work includes assisting organizations in tapping the creative potentials of conflict, diversity, and complexity. He is a Fellow of the International Futures Forum and the World Academy of Arts and Sciences.

---

Martin Michaelis

Martin is a licensed Mediator and Leadership Coach who works and lives in Berlin, Germany. He creates and facilitates programs for cultural change and leadership in organizations and post-conflict societies. He graduated in law at the University of Freiburg and in political science at the University of Mainz. Martin has worked as a mediator and lecturer in post-conflict societies including the South Caucasus region, Bosnia and Herzegovina among others. In addition he has trained judges in mediation in Egypt