Data from the U.S. Labour Statistics suggest an increasing demand for school psychologists. This demand may come from schools' recognition of students' needs. School psychologists collaborate with teachers, parents, and school staff to create a positive learning environment that encourages students' healthy development. Their work involves supporting students' mental health and improving their overall well-being. Read on to learn more about the focus areas of school psychologists, the challenges they face, and the skills and education required to enter this profession.
The Role of a School Psychologist in Supporting the Mental Health of Students
According to data from the Centers for Disease Control and Prevention (CDC), about 1 in 5 children have a mental disorder, but only 20% of those children receive the care they need from a mental health provider.
The work of school psychologists could be part of the solution to this mental health crisis. They are trained to support students' mental health and well-being and can create a safe and positive environment at schools by addressing the children's needs and maximizing their potential.
A school psychologist guides students to make sense of their thoughts and feelings and to prevent the onset of mental health concerns. Through interaction with a school psychologist, students learn how to move toward a better life and use their struggles as stepping stones toward achieving greatness rather than succumbing to helplessness.
What does a school psychologist do?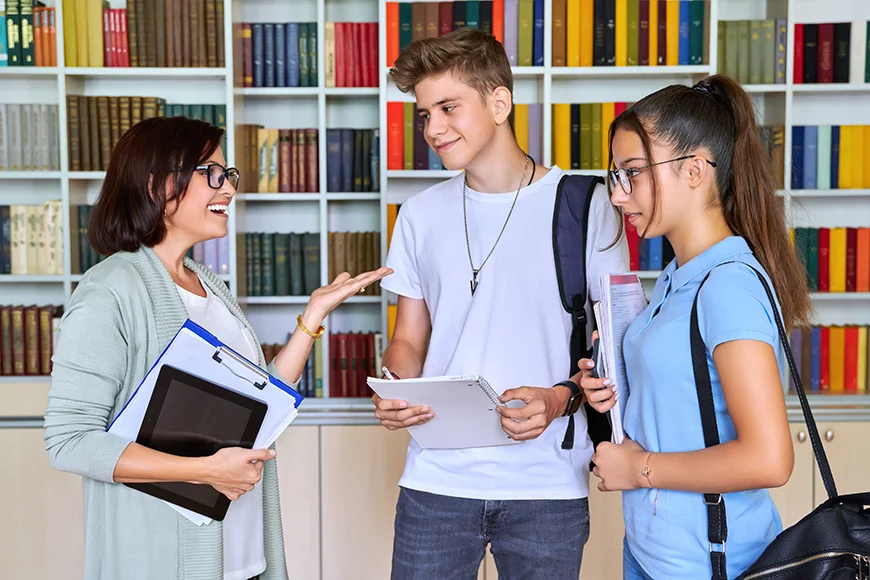 School psychologists are mental health professionals who, according to the American Psychological Association (APA), "are prepared to intervene at the individual and system level, and develop, implement and evaluate programs to promote positive learning environments for children and youth from diverse backgrounds and to ensure equal access to effective educational and psychological services that promote health development."
These professionals focus on a range of key areas to support students' mental health and well-being and can collaborate closely with school staff, parents, and teachers.
School psychologists can be instrumental in improving levels of academic achievement by conducting psychological assessments, individualizing instructions, monitoring students' progress, and adjusting classroom management. These assessments can identify whether students have issues with the speed of classroom lessons, for example. Feeling left behind can affect learning and, as a result, behavior.
Once the school psychologist identifies the issues, they can collaborate with teachers to provide individualized instructions to the students in question, monitor their progress, and adjust the speed at which they teach the students to accommodate those who might be slower in understanding certain concepts.
School psychologists may also promote positive behavior through improved communication and social skills.  These professionals can assist in developing interpersonal problem-solving skills, conflict resolution skills, and anger management abilities. Promoting positive student behavior is fundamental in students' interactions with one other and can aid in preventing bullying and violence.
A school psychologist may also provide individual and group counseling to students. Giving the students an opportunity to share their problems with a mental health professional who can guide them toward finding strategies for overcoming their problems is invaluable.
For instance, students suffering from anxiety can be severely impacted by stress, resulting in a poor quality of life. School psychologists work with students to teach them relaxation techniques such as deep breathing, provide psychoeducation, and teach strategies for dealing with symptoms such as panic attacks.
Those in this profession will address these essential areas and will constantly adapt, as well as further their education to help students as they face new problems throughout their careers.
Skills and qualifications required for school psychologists
According to the National Association of School Psychologists (NASP), school psychologists are highly trained professionals who typically complete a bachelor's degree program in psychology and education or a similar field.
They may then pursue a master's degree in school psychology or developmental psychology. These degrees often require a year-long, 1,200-hour supervised internship. Alternatively, they may pursue a doctorate in psychology, which usually takes four years or more to complete. In addition, mental health professionals must be credentialed by their state to work as school psychologists.
Beyond earning a degree, one might also choose to be nationally certified by the National School Psychology Certification Board (NSPCB). The National Association of School Psychologists (NASP) sets the standards for graduate education, credentialing, professional practice, and ethical conduct for school psychologists. Therefore, obtaining certification from the NASP as a school psychologist can greatly benefit one's career.
School psychologists need many skills to efficiently fulfill their roles, including:
excellent scheduling and organizational abilities
the ability to educate and support patients
in-depth knowledge of mental health diseases and therapies
expertise in disorder diagnosis
strong teamwork and communication skills
strong writing skills
Specialized skills such as crisis intervention, proficiency in report writing, familiarity with telehealth practices, knowledge of special education, expertise in autism diagnosis, and experience with staff development can be beneficial for the work of a school psychologist.
Working as a school psychologist is different from working as a school counselor. Though the two professions have some overlap, there are significant differences. School counselors generally focus on the student body as a whole.  They use individual and group counseling or educational interventions to address mental health and behavioral challenges.
School psychologists, on the other hand, tend to focus on addressing behavioral and academic issues in students through testing, assessment, and research. They might also work with a limited number of students who have more specific or targeted concerns.
Challenges faced by school psychologists and how to overcome them
Challenges
One of the main challenges school psychologists face is limited time and resources to address students' mental health needs. The cases that a school psychologist might deal with can be complex, and adding the competing demands that are a part of the job can make it difficult to support all students.
There is often a stigma associated with getting help from a psychologist, making it challenging for students to choose to meet with a mental health professional. School psychologists work with students who experience a wide range of mental health issues and must be constantly prepared to adapt, which may include furthering their education.
Strategies to overcome challenges
School psychologists can allocate their time and resources efficiently by utilizing data-driven decision-making. For instance, they might collect data on the needs of the student population and use the information to prioritize their caseload and allocate time and resources accordingly.
Implementing a whole-school approach to support students' mental health can be helpful. For example, a school psychologist might work with the school staff to implement a school-wide program on stress management techniques.
Collaborating with community resources can also increase access to mental health services. For instance, one might partner with a local mental health clinic to provide counseling services on-site at the school.
To expand the impact of their services, a school psychologist could also provide training and education to teachers and staff regarding mental health issues, which would expand the supportive learning environments available to students. Consider providing guidance as to how to recognize the signs of anxiety in students and provide educators with strategies to support those students in a classroom.
Career opportunities for school psychologists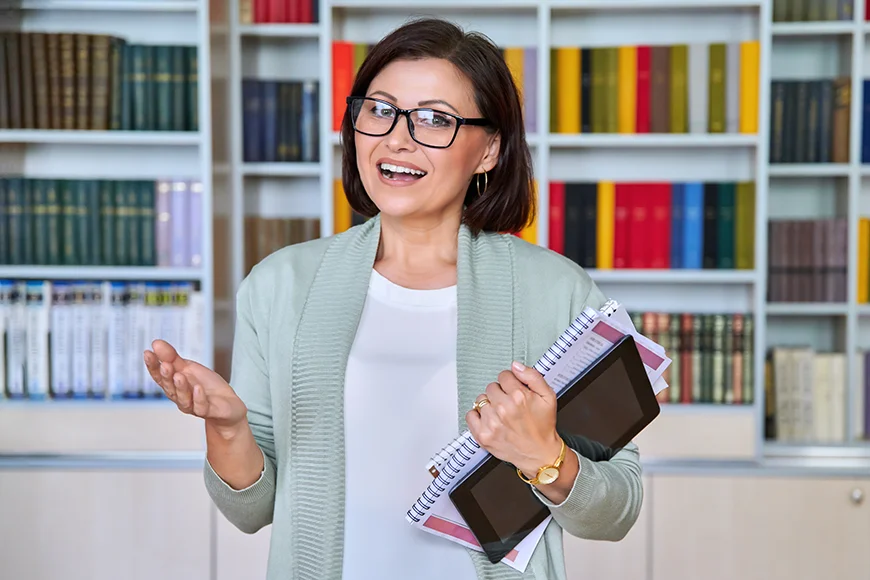 Data from the U.S. Bureau of Labour Statistics indicates that school psychologists will benefit from expanding job opportunities through 2029. School psychologists with doctoral degrees have the best employment prospects.
The median salary for full-time, school-based practitioners in the U.S. during the 2019-2020 school year was $74,000. However, there were variations in salary based on location, with the Northeast and West typically reporting higher salaries than the Central and Southeast regions of the country.²
School psychologists generally work in public and private schools. Some might also work in clinics, hospitals, universities, or other community settings. The U.S. Bureau of Labour Statistics predicts that, as more schools prioritize the mental health of their students, the demand for school psychologists will increase.
These mental health professionals are a great asset in the education system.  School psychologists work with students to help them succeed academically, grow socially, and overcome emotional and psychological challenges.
If you are interested in pursuing a career as a school psychologist, consider checking out our Psychology Program Overview or speak with an Admission Advisor to learn more about our programs.
References:
Bhatia, M. S., & Goyal, A. (2018). Anxiety disorders in children and adolescents: Need for early detection. Journal of postgraduate medicine, 64(2), 75.

Goforth, A. G., Farmer, R. L., Kim, S. Y., Naser, S. C., Lockwood, A. B., & Affrunti, N. (2021, July). Status of school psychology in 2020: Part 1, Demographics of the NASP Membership Survey [Research Report]. Bethesda, MD: National Association of School Psychologists.
People Also Ask
What do school psychologists actually do?
School psychologists are mental health professionals who work in educational settings to assist students with their emotional, social, and academic development challenges and to support their mental health.
They can assess and evaluate students' mental health, behavior, and learning needs. Based on that assessment, they can provide individual and group counseling and collaborate with teachers, parents, and school staff to implement various interventions to encourage a student's healthy development.
School psychologists focus on many key areas to support students' mental health and well-being. For instance, they might work to improve academic achievement by conducting academic assessments and individualizing instructions and interventions. Or, they might promote positive behavior by assisting students in developing conflict resolution skills and offering anger management training. School psychologists are highly trained mental health professionals who are constantly willing to adapt and help students address those challenges.
Can school psychologists diagnose ADHD?
Depending on their education and training, school psychologists can identify and diagnose ADHD in students. To diagnose ADHD (attention-deficit/hyperactivity disorder), school psychologists need to use various assessment tools and techniques, including observations, interviews with the student and parents, and reviews of the student's medical and educational records.
To diagnose a student with ADHD, a school psychologist must consider whether the student's symptoms are consistent with the diagnostic criteria for ADHD outlined in the DSM-5 (Diagnostic and Statistical Manual of Mental Disorders, 5th edition).
School psychologists are not medical doctors and cannot prescribe medication for ADHD. However, they can collaborate with medical doctors and other healthcare professionals to provide a treatment plan for a student diagnosed with ADHD.
Is being a school psychologist a stressful job?
Working as a school psychologist can be a stressful job. Common sources of stress for psychologists include the management of a large number of cases and working with a diverse group of students with different needs.
Dealing with complex and sensitive issues such as trauma and abuse can be overwhelming, limited time and resources can pose challenges, and the constraints of school policies can create frustrations when trying to support students' mental health. In some cases, difficult interpersonal relationships may exist with students, parents, faculty, and other administration members.
Despite all this, dealing with stress is a normal part of any job and can be managed effectively through the right coping strategies and support. Many school psychologists find their work rewarding and are grateful to be able to positively impact students' lives.