Professionals are constantly seeking ways to enhance their skills and advance their careers. One popular option is pursuing a Master of Business Administration (MBA) degree. The age-old question arises for those wanting the flexibility to earn while studying: Executive MBA vs. part-time MBA—which is better?
This article comprehensively compares executive and part-time MBA programs, highlighting key benefits, challenges, and factors to consider when choosing the right program for you. Understanding how each MBA format aligns with your individual career goals and personal circumstances will allow you to make an informed decision that will support your success in the program and business.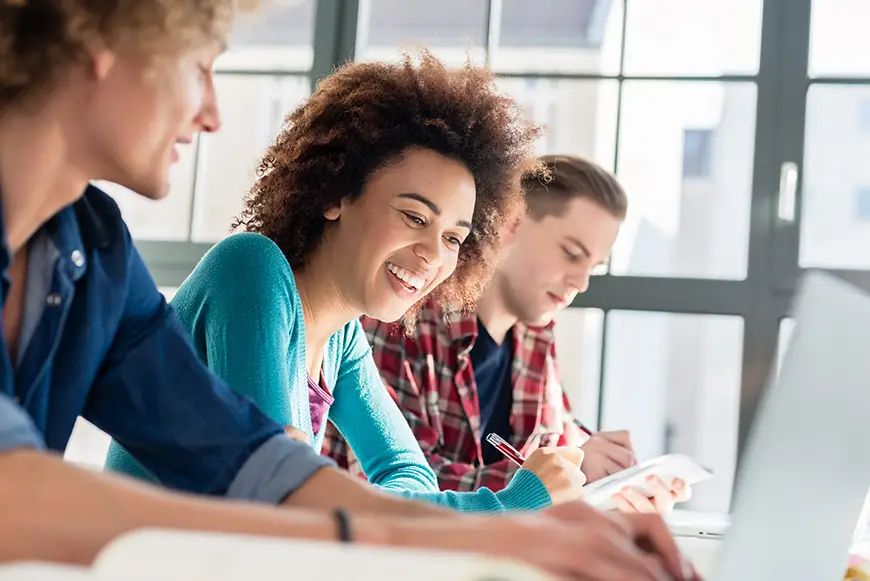 Executive MBA programs
An Executive MBA (EMBA) is an advanced business degree program for professionals with approximately ten to fifteen years of work experience. These candidates are looking to further develop their managerial and leadership skills while continuing to work full-time.
The target audience for EMBA programs typically consists of experienced managers, executives, and senior leaders wanting to enhance their decision-making, analytical, and leadership abilities.
EMBA programs are structured to accommodate busy professional schedules, with classes outside regular business hours, such as evenings and weekends. Executive MBA students may also attend occasional intensive, concentration, or block weeks. This format allows students to work full-time and apply the knowledge and skills acquired in the program to their job in real time.
Typical program structure and duration
The duration of EMBA programs varies depending on the institution. However, most executive MBA programs range from 18 to 24 months.
EMBA program curriculum is structured to cover core business concepts and often includes electives that allow students to explore specific areas of interest. Some programs may incorporate global residencies or immersive experiences to give students a broader perspective on business and management.
Again, EMBA programs are meant to accommodate full-time work schedules where students can apply their learning.
Key benefits
When considering the executive MBA vs. part-time MBA question, the EMBA offers unique benefits that include the following:
Networking opportunities: EMBA programs attract experienced professionals from diverse industries, providing a valuable platform for students to build connections and expand their professional network.
Program design: EMBA programs are tailored to meet the needs of executives and senior professionals, focusing on advanced management topics such as strategic leadership, global business, and innovation.
Real-time knowledge application: EMBA students can continue working full-time while pursuing their degree, enabling them to apply the knowledge and skills acquired in the program to their current job in real-time.
Career and earning advancement: EMBA graduates often experience significant career growth and salary increases within two to three years of completing the program. On average, EMBA graduates receive a 14.1% compensation increase, including salary and bonuses after graduation.
Challenges
EMBAs are fast-paced and require a significant time commitment to keep up with coursework, assignments, and group projects. This can be overwhelming, especially for professionals already managing demanding full-time careers.
Time management and prioritization are crucial for achieving a work-life-study integration. Students and their families must be prepared to compromise and adjust their schedules to accommodate the program's rigors.
Part-time MBA programs
A part-time MBA is a flexible graduate business degree program designed for professionals who want to pursue an MBA while working full-time. Part-time MBA programs offer a more flexible schedule than full-time MBA programs, with classes typically held in the evenings or on weekends.
A part-time program's target audience includes full-time employees who want to upskill in business without taking time away from their careers. Part-time MBA students are slightly older than full-time students and often seek to advance within their current company or industry.
Key benefits
Part-time MBA programs offer benefits such as the following:
Flexibility: Part-time MBA programs cover the breadth of full-time MBA programs over a longer period. Part-time MBAs can range from three to six years in duration. With a more flexible schedule, students can balance their studies with work and personal commitments. Some top business schools even offer a self-paced online option that requires completion within a set time.
Continued employment: Part-time MBA programs allow students to continue working full-time and maintaining income.
Application of knowledge: Like EMBA programs, part-time MBA students can apply their new knowledge and skills in real-time, enhancing their professional performance and providing immediate value to their employers.
Career advancement: Increases in salary and bonuses are very common for part-time MBA students.
Challenges
All MBA programs require disciplined study, time management, and appropriate prioritization. Juggling the responsibilities of a full-time job, academic commitments, and personal life can be demanding. Again, work-study-life integration is essential. If a family is involved, they must be invested in and supportive of your studies.
Part-time options are generally less structured than EMBA or full-time MBA programs, which can result in diminished cohort bonding and a less immersive experience. This may impact the sense of community and networking opportunities within the program.
Is the EMBA same as part-time MBA?
While EMBA or part-time MBA programs cater to working professionals, there are some critical differences between the two:
| Aspect | EMBA programs | Part-time MBA programs |
| --- | --- | --- |
| Student age and experience | Mid-30s to late 40s with 10-15 years of work experience | Slightly older than full-time MBA students, with varying work experience |
| Curriculum focus | Emphasis on management, leadership, and strategic decision-making | Foundational business courses with some focus on management |
| Program duration | 18-24 months | Flexible, ranging 3 to 6 years |
Factors to consider when choosing between an EMBA and a part-time MBA
Deciding between the two program types comes down to several factors, including your long-term career objectives and how each program aligns with your goals. You must also consider your current work experience and the flexibility required to balance work, studies, and personal life.
To some degree, financial considerations are also important. Evaluate the costs associated with each program and the potential return on investment, including salary increases, bonuses, and career advancement opportunities.
Is it better to do an MBA full-time or part-time?
It is not a matter of whether an EMBA, part-time, or full-time program is better, but rather which option best aligns with your needs, goals, and circumstances. Full-time MBA programs offer a more immersive experience, with a structured curriculum and opportunities for networking and internships. These programs typically also offer access to various career services for those students considering a transition to a new role.
Part-time MBA programs provide flexibility for working professionals, allowing them to maintain their job and salary while pursuing their degrees. Consider your career goals, role experience, and personal commitments when deciding between a full-time or part-time MBA program.
Conclusion
Choosing between part-time and executive MBA programs ultimately depends on your career goals, work experience, and personal circumstances. Both programs offer valuable opportunities for career advancement, networking, and skill development.
You must carefully evaluate your needs and priorities to determine whether a part-time MBA or EMBA will best support your professional growth and success. By making an informed decision, you can make a solid investment in your future and unlock new business opportunities.
Our MBA in Creative Enterprise prepares students to be corporate leaders in the twenty-first century. This current and relevant program focuses on whole-person and whole-system competencies, ensuring students are ready for today's emerging economies.
References: