An MBA degree is a game-changer. Whether you're looking to upskill, advance or change your career, or re-enter the workforce, an MBA demonstrates professional aptitude, commitment, and discipline. While an MBA isn't a "golden ticket" to higher-paying jobs, an MBA is hard work, drives creativity and innovation, and is an asset for leadership and executive roles.
This article explores the various types of MBA degrees, their core curriculum, electives, and specializations, and the potential career implications for those who pursue them. We discuss why people choose the MBA and this prestigious degree's potential earnings and cost-tradeoff. We also touch on Meridian University's MBA in Creative Enterprise and how this progressive program equips graduates with relevant, future-ready business knowledge.
MBA Career Paths: How to Choose the Right One for You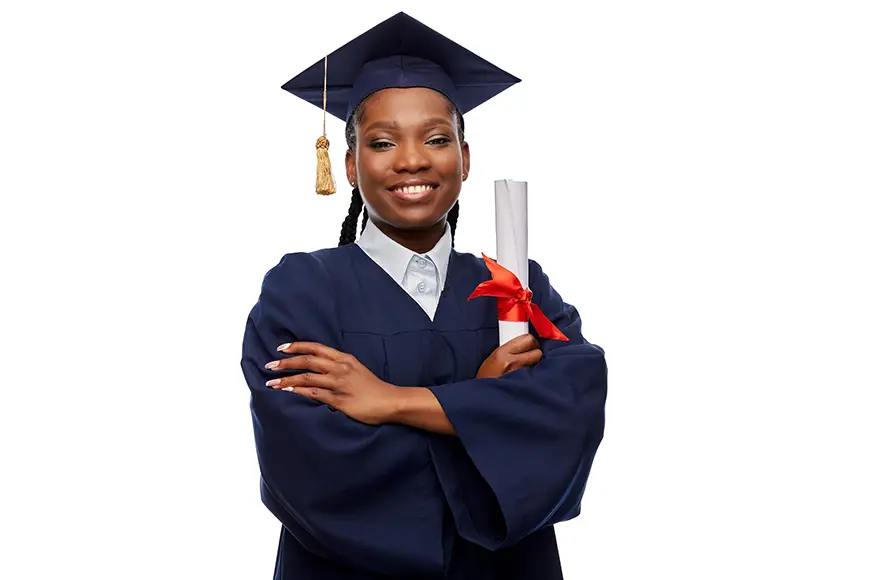 What is an MBA degree?
According to Kirkpatrick (2020), "an MBA (Master of Business of Administration) is a graduate degree focused on building leadership skills and learning business principles."
An MBA, or Master of Business Administration, is a graduate-level degree that provides students with a comprehensive understanding of various business disciplines, including management, finance, marketing, and entrepreneurship. This degree enhances student skills and knowledge, helping them to excel in competitive business.
An MBA degree caters to a diverse range of students, such as working professionals looking to upskill for their careers. The program structure allows students to customize their learning experience to align with their goals.
Types of MBA degrees
Several MBA programs are available to serve students' diverse needs and preferences.
Two-year full-time MBA programs
Ideal for those looking to change or enhance their careers
Two academic years (four semesters)
The first year covers core topics, the second year covers advanced skills and electives
One-year full-time MBA programs
Designed for students who want a shorter period of study
Completed in twelve months or less
Delivered in a condensed format due to time constraints
Executive MBA programs
Created for executives with extensive work experience
Offered in a flexible format, including independent and online study, weekend or evening classes, and block weeks
Advanced management and leadership development are the key focuses
Part-time MBA programs
Allows students to work while earning their degree
Program length is usually 24-48 months
Offers virtual and in-person class experiences
International or Global MBA
This program is based outside of the student's home country
Focuses on doing business abroad
Aims to provide students with a global outlook, an understanding of cultures, and how this impacts business
Online MBA
Offers students the opportunity to complete their MBA degree remotely
Utilizes technology for learning and networking
Ideal for those who cannot attend classes on campus due to professional or personal obligations
The following table summarizes the above-mentioned programs.
| MBA degree | Length | Format |
| --- | --- | --- |
| Two-year full-time MBA | Two years | Full-time, in-person |
| One-year full-time MBA | One year | Full-time, in-person |
| Executive MBA | Varies | Flexible, in-person |
| Part-time MBA | 24-48 months | Part-time, virtual, in-person |
| International or global MBA | Varies | In-person, international |
| Online MBA | Varies | Online, remote only |
Are online MBA programs worth it?
Online MBA degrees are growing in popularity and credibility. Many employers view online MBA programs as equal to on-campus or mixed-format degree programs.
Potential pros of online MBA degrees
Flexibility: You study at your own pace. This is ideal for those with busy personal and professional lives.
Networking: These programs generally draw students from various geographics. Students can connect with their global peers, adding to their understanding of cultures and their business impacts.
Effectiveness: They are generally more affordable than other formats. The program overheads are lower, and this is reflected in the tuition.
Professional advancement: Online MBA graduates can see significant income boosts upon earning their degree, with average jumps as high as 63%.
Potential cons of online MBA degrees
Limited networking: These programs may offer less personal interactions and community-building than graduate business studies are known for.
Self-discipline and time management: Balancing personal and professional life, and studying, is challenging. You need structure to complete an online MBA degree, and your family must be on board.
MBA degree core curriculum and electives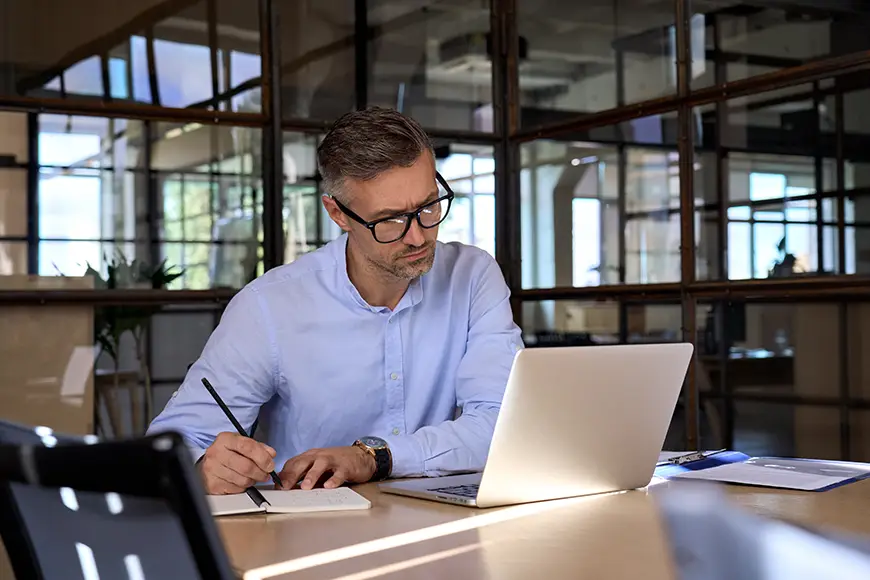 The GMAC Corporate Recruiters Survey 2022 Summary Report noted, "Communication skills, strategic thinking, and versatility are the most often cited reasons for corporate recruiters' confidence in business school graduates."
MBA degrees provide students with a comprehensive understanding of foundational business disciplines while allowing them to tailor their education to their interests. This is achieved by combining core and elective courses.
What do you learn in an MBA?
An MBA degree typically consists of core courses and electives. As the name suggests, "core" courses are the business skills foundations, such as marketing or accounting. Electives are more specialized toward student interests.
Core curriculum
Solid baseline business skills are essential for any successful leader. MBA curriculum core courses are mandatory for all students and can include the following:
Strategic Management
Organizational behavior
Marketing
Accounting
Finance (entry-level and advanced)
Economics
Operations management
Data analysis
Electives
Electives allow MBA students to customize their learning experience. Electives typically focus on finance, marketing, technology, consulting, operations, or entrepreneurship. Learning is reinforced with individual and team projects and often a final case study. These industry-specific or specialized subjects help students create new or evolve skill sets or learn about subjects that interest them or match their career path.
Meridian University's MBA in Creative Enterprise curriculum
In Ascend of Harvard Business Review, Kirkpatrick (2020) noted, "The skills many organizations are looking for range from empathy and team management to understanding how to look ahead, set strategic goals, and influence stakeholders from diverse backgrounds."
Meridian University's MBA in Creative Enterprise is unique in that it combines core business functions with the university's five defined dimensions throughout the program. These five dimensions include the following:
Transformative innovation
Business as a means of regenerating the commons
Entrepreneurship that is generative, not extractive
Developmentally-drive organizations
Creative enterprise
This groundbreaking program ensures baseline skills are built and solidified while future-proofing student knowledge with advanced skills expected in 2023 and beyond.
Different types of specialized MBA programs
Specialized MBA degrees offer students in-depth knowledge and skills in a particular business area. Popular specializations include but are not limited to the following:
Management: This specialization covers a range of management skills and perspectives applicable across any industry.
Finance: For financial management, risk management, investment, banking, or corporate finance, this is an excellent specialization to pursue.
Marketing: This specialization teaches marketing strategies, market research, and consumer behavior. Post-program careers include public relations, marketing management, and advertising.
STEM: These programs combine science, technology, engineering, and mathematics (STEM) functions with real-world business topics.
Entrepreneurship: If you want to build your own business or create a new business within an existing organization, this program focuses on startups and venture capital.
Operations management: This specialization focuses on supply chain management, whereas students learn to maximize production and logistics.
You must choose a specialization that appeals to you and your professional interests. If you cannot choose a specific subject, an MBA in general management is an excellent option.
Who gets an MBA degree, and why
The types of people and their motivations for getting business graduate degrees are highly diverse. Some more common personal descriptions of potential MBA candidates include the following:
Entrepreneurs: Those with the passion to start a business or who work in startups. An MBA can help entrepreneurs plan, finance, launch, and manage a new company.
Career enhancers: Professionals looking for upward mobility on the corporate ladder. An MBA may assist them in attaining higher positions across industries and increased pay, bonuses, equity positions, and other "perks."
Career transitioning: Individuals looking to work in a new field might find an MBA provides them with the foundational knowledge and credibility needed to move between careers.
Re-entering the workforce: People take breaks from their careers for various reasons, such as an illness, caring for a family member, having a child, or a sabbatical. An MBA can improve their re-entry marketability.
International businesspeople: Cross-cultural management is a business art form. Those professionals looking for global perspectives and insights on related business practices will thrive in an international MBA program.
What can you do with a Master of Business Administration?
Obtaining an MBA degree can result in an array of professional opportunities. Popular careers for MBA graduates include management consulting, investment and finance roles, technology and other STEM positions, operations or marketing, or entrepreneurship.
What is the salary of an MBA?
An MBA degree can significantly increase your earning potential. Graduates often experience higher salaries than those professionals with only a bachelor's degree. According to a 2022 Corporate Recruiters Survey by the Graduate Management Admissions Council (GMAC), the median starting salary for an MBA graduate was $115,000, which is 75% more than those with a bachelor's degree.
MBA salaries differ by job title, experience, industry, and location. In 2019, graduates who took consulting roles were top earners with an average salary of $135,000 per year. Finance roles followed closely. It is very common for MBA degree holders to have higher starting salaries and earn significantly more than their bachelor's degree colleagues throughout their careers.
Application process and cost of an MBA degree
Applying for an MBA generally involves submitting an online application form supported by documents such as transcripts, letters of recommendation, a personal statement, and a resume. Additionally, applicants may need to submit standardized test scores from the Graduate Management Admission Test (GMAT) or Graduate Record Examinations (GRE).
Meridian University's MBA application is similar. You submit an online form and the required materials. Meridian University offers ongoing open enrollment throughout the year, allowing for continuous MBA applications and the opportunity for students to start at one of four times yearly.
The cost of an MBA degree can vary depending on factors such as the school, location, and type of program. However, MBA programs typically cost an average of $55,200 ($27,600 per year for a two-year program). Ranked full-time MBA programs at private universities may charge up to 4-5 times more than the average. The total cost of attending a Chicago-based MBA program at the University of Chicago Booth School of Business is $204,450.
Meridian University is committed to affordability and access to education.  They are approved for Federal Student Aid and offer scholarships to help reduce the financial burden of pursuing an MBA degree. Exploring financial aid options is key; students may find they have access to other scholarships, grants, loans, or loan forgiveness, making their MBA education more accessible.
Meridian University's MBA in Creative Enterprise
Meridian University's MBA in Creative Enterprise is designed for students who aspire to be social entrepreneurs or executive leaders grounded in the principles and practices of creative enterprise. The program focuses on developing skills and competencies applicable across core business functions, such as strategy, marketing, and management. There is then flexibility for students to navigate the University's curricular architecture in ways that match their passions, professional goals, and other life commitments.
Meridian University offers the Social Entrepreneurship Scholarship to support students' MBA pursuits, which goes beyond traditional scholarships. This scholarship is intended to support student initiatives related to generative entrepreneurship, sustainable development, and cultural leadership.
Conclusion
With various types of MBA programs, specialized degrees, and flexible learning options, there is a program suitable for everyone's unique needs. Meridian University's MBA in Creative Enterprise stands out with innovative approaches, focusing on sustainable and generative practices that benefit the individual and the whole.
Now is the time to explore your options and take the next step toward achieving your career goals. Speak with a Meridian University advisor today or apply for the program and start your journey towards a successful future in business.
References: