Creative enterprise and socially responsible business is taking center stage in today's economy. It is no longer enough only to serve primary company stakeholders with for-profit business models. Companies must adapt and better serve their customers, communities, and society.
Founders regularly mix unique ideas with business sense, whether it be the performing arts, design, fashion, or digital creation. This article discusses creative enterprise as a business type and a corresponding mindset.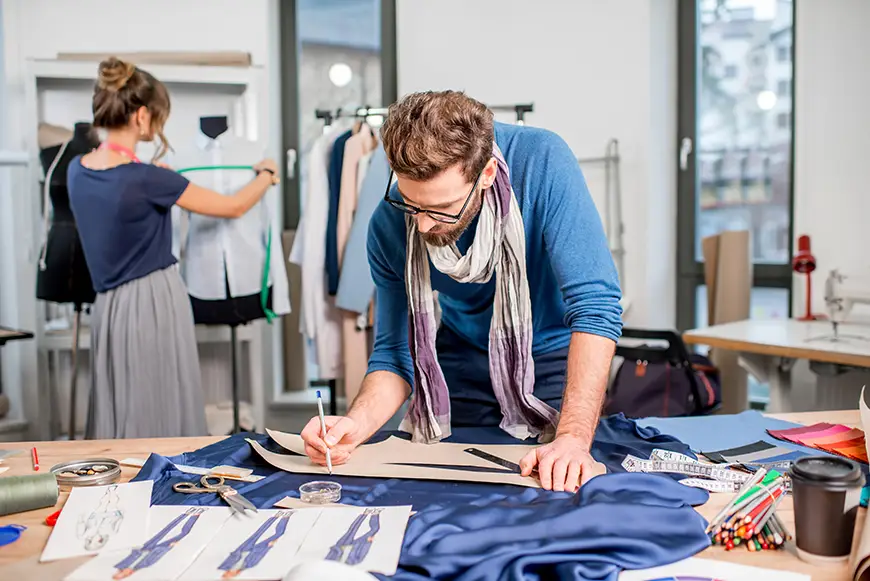 What is creative enterprise?
A creative enterprise is an entity that originates from individual creativity, skill, and talent. This type of business has the potential for job and wealth creation through the generation and exploitation of intellectual property.
Creative enterprises are involved in creating, producing, and distributing innovative goods and services. They often use various forms of original and proprietary information and property.
Innovators and changemakers own and operate arts-driven businesses. The for-profit-only business model no longer applies. These social leaders want to build sustainable and equitable companies that benefit many stakeholders.
What is an example of creative enterprise?
A creative enterprise can take on numerous forms. They include:
Freelance writers: Authors create content for clients, such as blog posts, articles, or marketing materials.
Graphic designers: Professionals who design visual elements for clients, such as logos, websites, and promotional materials.
YouTubers: These content creators produce and share videos on the YouTube platform, often generating income through advertising, sponsorships, or merchandise sales.
Amazon and Etsy sellers: Individuals or businesses that create and sell handmade or unique products through online marketplaces like Etsy and Amazon.
Performing arts companies: Organizations that produce and present live performances, such as theater, dance, or music events.
Writing businesses: Companies that provide writing services, such as copywriting, editing, and content creation.
Crafting businesses: Creative enterprises that create and sell handmade crafts, such as candles, jewelery, and home decor.
Benefits of a creative enterprise
Creative businesses provide significant benefits to their internal and external stakeholders. With a typically narrower focus, leaders can quickly identify, address, and exploit ever-changing technologies and market conditions. The following are examples of benefits creative companies provide.
Increased productivity and efficiency
Creative solutions can help businesses identify potential areas for improvement, leading to greater efficiencies. Creative problem-solving skills can also help employees find more ways to complete tasks or projects, resulting in newfound productivity.
Promotes teamwork
Creativity fosters collaboration and innovation among team members. This cooperation contributes to long-term growth.
Encourages positive communication
Creative businesses generally have a more open and positive communication culture, helping improve employee morale and the overall work environment.
Helps businesses stand out from the competition
These companies create memorable customer experiences and differentiate themselves from competitors, enhancing profitability.
Support external operations
Creativity can benefit external operations by generating innovative marketing strategies, building strong partnerships, and identifying new growth areas.
Creative enterprise as a mindset
Creative enterprise is also a mindset. These businesses are inherently social entrepreneurship and usually lead to close team members, community, industry, and business-customer relationships and experiences. Leaders in this space typically work towards being responsible corporate citizens within the communities and industries they serve.
Those with a creative enterprise mindset often support each other; communities also rally behind these creators. Creative enterprise finds a niche within a passion and brings enhanced products or services to the marketplace. It also identifies and tactfully exploits market gaps, sometimes bringing innovations to older concepts or products.
Conclusion
Creativity, innovation, and imagination spur the creative enterprise mindset and resultant businesses. Meridian University's MBA in Creative Enterprise provides a traditional core business education and cutting-edge concepts such as whole-person and whole-systems competencies development. This MBA program is part of a third wave of business education that creates leaders for today's ever-evolving, emerging economy.
If you are interested in the MBA in Creative Enterprise, speak with an Admissions Advisor or apply online today!
References:
Ramaswamy, V., & Gouillart, F. (2010, October 1). Building the Co-Creative Enterprise. Harvard Business Review. Retrieved August 25, 2023, from https://hbr.org/2010/10/building-the-co-creative-enterprise