Today's business environment is fast-paced and competitive. Professionals are constantly seeking ways to upskill and advance their careers. A popular option to achieve this is hybrid MBA programs, which combine the best of online and in-person learning experiences.
Hybrid MBA programs offer a flexible and convenient way for early career professionals, those reentering the workforce after time away, and persons seeking further education for other reasons to gain valuable business knowledge. Moreover, earn that all-too-important credential—an MBA.
Meridian University is stepping up to provide innovative and high-quality hybrid MBA options for students in the United States and internationally. This article explores the world of hybrid MBA programs in the United States, focusing on their importance and benefits and the unique offerings of Meridian University's MBA program.
If you plan to take the next step in your career, a hybrid MBA will help you achieve your goals.
Redefining Success with Business Innovation: A New Approach to Growth
What is a hybrid MBA program?
Hybrid MBA programs provide a unique blend of online and in-person learning experiences. Hybrid programs are designed to provide the flexibility and convenience of online classes while offering the in-person benefits of a traditional MBA degree.
While hybrid MBA programs typically cater to the early to mid-career working professionals, persons reentering the labor market or just looking for an advanced business administration education frequently join these programs.
Combining online and in-person learning experiences
Hybrid programs combine the advantages of pre-recorded and live online learning - such as flexibility and accessibility - with the benefits of in-person sessions, including networking, exposure to diverse professional practices, and cultural awareness through international interactions.
In hybrid MBA programs, students engage in online coursework and virtual classes. They also participate in on-campus sessions, immersions, case competitions, and residencies for more hands-on, experiential learning opportunities.
Classes may be divided into synchronous or asynchronous learning and in-person formats. In brief, they are defined as:
Synchronous learning: These live classes are taught by the MBA faculty of the attended school. Live classes are generally held once or twice each week.
Asynchronous learning: The MBA faculty produces pre-recorded lectures, content, and assignments that augment synchronous learning sessions and in-person classes.
On-campus sessions, weekend classes, immersions, block weeks, or residencies: Every school has a different name for in-person sessions. Nevertheless, they are typically held on weekends or in five- or six-day block weeks. These core and elective courses usually align with the student's selected MBA specialty. Meridian University's available concentrations, for example, include the following:

Complexity management
Developmental coaching
Generative entrepreneurship
Organizational development
Transformative leadership
The online component of hybrid MBA programs allows students to complete coursework at their own pace and on their schedule. These program characteristics make it an ideal option for those with busy professional or personal lives. Meanwhile, the in-person component networks students with their peers, faculty, and industry professionals and helps them gain valuable exposure to different business and cultural practices.
A comprehensive and well-rounded graduate program
Combining these two learning experiences offers students a comprehensive and well-rounded business education that prepares them for success in the ever-evolving business world. Consequently, hybrid MBA programs have seen a surge in popularity for graduate management admission among professionals in their late twenties and early thirties.
Are hybrid MBA programs respected?
Hybrid MBA programs are typically two-to-three-year full-time programs. Reputable programs are accredited and respected, and the school's full-time MBA faculty deliver classes. Hybrid MBA programs are relatively new compared to traditional MBA programs. Some employers or interested parties may request that you provide transcripts to demonstrate the academic knowledge gained from your program.
History of hybrid MBA programs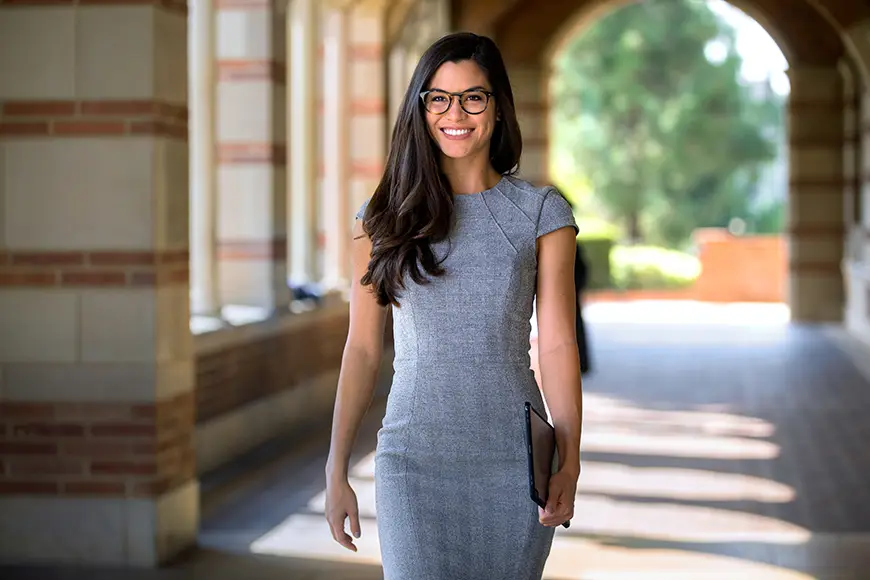 Let us look at some key milestones in developing hybrid MBA programs.
| Year | Milestone |
| --- | --- |
| 1908 | First MBA program established at Harvard University |
| 1968 | Florida Atlantic University launches its first MBA program |
| 1974 | AGH University of Science and Technology introduces an MBA program |
| 2000 | W.P. Carey School begins offering online courses to John Deere employees |
| 2004 | W.P. Carey School launches its online MBA program |
| 2012 | UCLA Anderson School introduces a hybrid scheduling option for its Fully Employed MBA (FEMBA) program |
| 2016-2021 | Number of accredited U.S. schools with fully online MBA programs increases from 284 to 526 |
| 2020-present | More full-time MBA students enrolled in online programs than residential ones |
Harvard University established the first MBA program in response to a growing need for a scientific approach to management. The W.P. Carey School at Arizona State University began offering online classes to John Deere employees in 2000, paving the way for its online MBA. In 2012, UCLA Anderson School of Management blended online and on-campus learning to accommodate the needs of its FEMBA program. Since 2012, online, blended, weekend, night, part-time, and executive programs have grown significantly.
Benefits of hybrid MBA programs
Hybrid MBA programs offer a range of benefits for students. For a new or mid-career professional seeking career advancement, a stay-at-home parent looking to update their skill sets, or those looking for educational challenges, hybrid MBA programs offer unique and affordable blended learning opportunities.
Flexibility and convenience for working professionals
Balancing competing personal and professional obligations can be challenging. Hybrid MBA programs offer vital benefits such as the following:
The ability to complete coursework at your own pace and on your schedule.
The seamless combination of online learning and in-person sessions for an optimal and rounded educational experience.
Content catered to today's business world, with regular updates to ensure continued relevancy.
Career services to help you find a role or career you love!
Networking and experiential learning
Hybrid MBA programs offer students the opportunity to become comfortable with professional interaction. Likewise, team projects, presentations, workshops, video conferences, meetings, and lively debate help students finetune listening and communication skills, confidence within teams, and innovative thinking.
Hybrid MBA programs also stress community engagement, ensuring students understand the broader impacts of their organizations. Environmental, social, and governance (ESG) issues are prevalent, and this awareness encourages program candidates to build and operate companies that better the communities in which they serve.
Coupled with the global reach of an online platform, affording exposure to different cultures and business practices, hybrid programs are typically in-depth and rigorous, preparing graduates for real-world business situations.
Cost-effectiveness compared to traditional full-time or other MBA programs
Hybrid MBA programs offer several financial advantages to students. Tuition fees are typically comparable to, or lower than, traditional MBA programs because fewer on-campus resources are used. Further, hybrid MBA programs often qualify for employer-sponsored tuition assistance or reimbursement. Access to scholarships and the ability to use financial aid for qualified graduate studies provides students with many opportunities to reduce their out-of-pocket costs.
Meridian University has some of the lowest program fees in the United States. Meridian University participates in Federal Student Loan programs and works with the U.S. Department of Veterans Affairs for training eligible Veterans and other persons looking for student aid.  Newly-accepted students may also apply for and receive an Impact Scholarship, and international students may receive financial assistance on a case-by-case basis. Meridian University is committed to supporting graduates in taking action to transform the landscapes of business, coaching, education, and leadership.
Comparing Meridian University's MBA program
Meridian University offers a unique approach to business education with its innovative MBA in Creative Enterprise. This hybrid MBA program combines core business functions such as management, marketing, finance, operations, and strategy with an approach that emphasizes whole-person and whole-system competencies.  The MBA in Creative Enterprise stands out because of its pioneering approach to business education. The program integrates personal advancement with systemic acumen. Simply, studies focus on developing individual and collective complexity capabilities, including self-awareness, collaboration, dialogue, negotiation, and co-creation–all critical "soft skills." The MBA in Creative Enterprise also emphasizes social, technological, and cultural innovation to shape entrepreneurial leaders well-suited for business in 2023 and beyond.
The focus on whole-person and whole-system competencies
As the Harvard Business Review has outlined, hybrid jobs call for hybrid education. Many traditional MBA programs have not been revised and updated to meet the needs of today's business professionals.
Meridian University's hybrid MBA program strongly emphasizes developing the holistic person- and system-competencies essential for success in the current business climate. The program cultivates personal and professional self-awareness, negotiation, and co-creation, and encourages students to develop whole-person and whole-world system perspectives. Graduates are prepared to generatively impact the world as entrepreneurs, executives, and managers.
Whole-person and whole-system perspectives provide graduates with a valid, 360-degree strategic view of everything happening around them—business or otherwise. Seeing this "big picture" allows for rapid and accurate decision-making, resulting in a higher impact.
Other notable hybrid MBA programs in the United States
In addition to Meridian University's hybrid MBA program, there are several other high-quality, top-ranked programs in the United States. Some programs include:
Meridian University's MBA program is a standout
Meridian University's MBA in Creative Enterprise offers an innovative business education approach and commitment to holistic, relevant competencies. This approach focuses on whole business acumen, encouraging innovation across social, technological, and cultural domains, and preparing students for an always-transforming economy.
Is Meridian University's MBA program accredited?
Meridian University is accredited by the WASC Senior College and University Commission (WSCUC), ensuring its high-quality education meets rigorous academic standards. Other schools accredited by the WSCUC include the University of California, Berkeley, UCLA, and Stanford University.
Conclusion
Hybrid MBA programs offer students a unique blend of online and in-person learning experiences. These programs are flexible and convenient for completing a graduate-level business education, gaining the highly sought MBA credential, and advancing your career.
Meridian University's MBA in Creative Enterprise focuses on whole-person and whole-system competencies, offering students a holistic, strategic perspective when making crucial business decisions. With accreditation, scholarship opportunities, and access to student aid, Meridian University is one of many excellent options for those considering a hybrid MBA program.
If you want to pursue your MBA at Meridian University, start your journey here or speak with a student advisor to discuss your options. We look forward to seeing you online and on campus!
References: