If there is one crucial component of an organization's success, it's efficiency.
However, achieving it can be a difficult endeavor. There are many variables at play, and only a skillful conductor of human psychology can harmoniously coordinate efficient collaboration among a large number of people.
Organizational psychology is the field that delves into the mechanisms behind setting an organization up to work properly. Read on to learn how organizational psychologists are able to maximize employee potential, create a positive work environment, and teach employees to manage their time and priorities effectively.
Mastering Workplace Efficiency: The Power of Organizational Psychology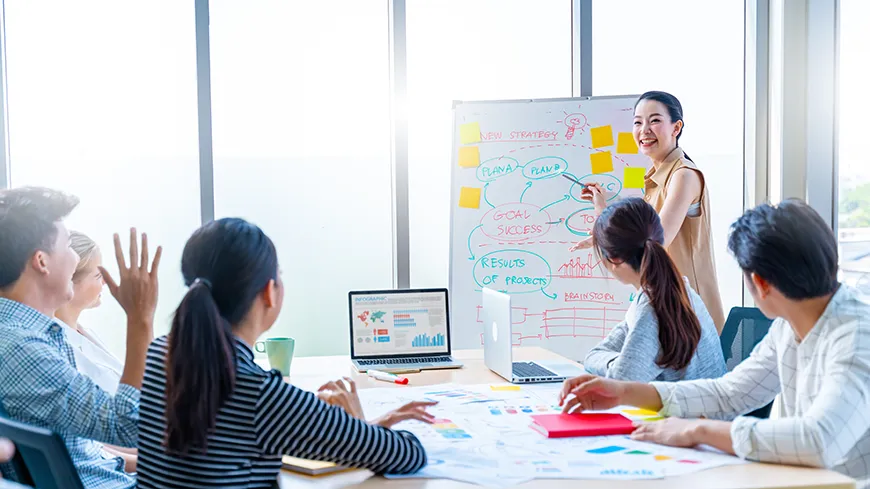 What is organizational psychology?
Organizational psychology is a specialized area within the broader field of psychology, focusing on human behavior in the workplace. Organizational psychology is one facet of the industrial-organizational, or I-O, branch of psychology. This field of study aims to understand how organizations and employees interact and to optimize these interactions to boost performance.
To achieve this, experts in the field of industrial-organizational psychology use a variety of research and statistical methods. These experts are trained and prepared to resolve problems related to human research and organizational development. They examine case studies using scientific research methods and develop strategies to optimize employee and organizational performance.
Unlocking employee potential
A significant part of improving workplace efficiency is tapping into employee potential. Industrial-organizational psychologists work to understand individual strengths and weaknesses and to develop strategies that capitalize on those strengths for enhanced performance.
One approach to this is job redesign. This strategy involves analyzing individual job responsibilities and restructuring them to maximize the benefits of employee strengths. An employee who displays attention to detail might be assigned new quality control responsibilities, while the role of a creative individual may morph to encompass the production of marketing materials.
This approach is shown to promote employee engagement within a company. A meta-analysis conducted by Gallup which analyzed 263 research studies related to 192 companies, showed that top-quartile companies had higher employee engagement rates than those in the lower quartiles. The top quartile companies had a 22% higher profitability, 10% higher customer ratings, and 48% fewer safety incidents.
The significance of developmental coaching
Developmental coaching is closely associated with organizational psychology. Its central aim is to help employees grow and develop their skills, enabling them to reach their full potential and contribute more efficiently to the organization's success.
Developmental coaching involves working closely with employees to help them identify their strengths, areas for improvement and career goals. Through a combination of personalized guidance, support, and feedback, industrial-organizational psychologists can help employees improve their problem-solving skills and enhance their overall performance.
The benefits of developmental coaching include increased self-awareness, enhanced skill development, and a more open and strengthened organizational culture.
In a survey conducted by The Energy Project in collaboration with Hardware Business Review, 12 employees across a broad range of companies showed that employees with more supportive supervisors were 30% more likely to stay with the organization and were 67% more engaged.
In addition, employees who derived meaning and significance from their work were 300% more likely to stay with their organizations. The same employees reported 70% more job satisfaction, and they were 40% more engaged at work.
These results show the potential impact of developmental coaching, as it is a catalyst for both employer and employee success.
Improved communication
Effective communication is another fundamental aspect of achieving workplace efficiency. Miscommunication can lead to confusion, wasted time, and even conflict. To enhance efficiency in the workplace, mental health specialists from the field of organizational psychology create and implement strategies that promote effective communication.
Active listening is one such strategy. This means fully engaging with the person speaking while genuinely trying to understand their point of view. Industrial-organizational psychologists model essential communication skills such as giving feedback, asking for clarifications, and communicating clearly and concisely.
The Connected Culture Report revealed that 71% of employees who reported being highly productive also experienced strong connections with their coworkers. This indicates the primary role that efficient communication has in increasing an organization's productivity.
Time and priorities management
Effective time management is the key to improving the speed, quality, and relevance of a company's projects. When employees can manage their time well, they are more likely to be productive and meet deadlines. Industrial-organizational psychologists can help organizations develop time-management strategies to boost productivity.
One effective and not-so-revolutionary time management strategy is scheduling. This involves identifying all tasks that need to be completed and organizing them based on reliance and urgency. Prioritizing can be difficult when all tasks feel equally important, but it is possible to add more factors to the analysis and determine which tasks are more relevant.
For example, let's imagine that an employee has the following tasks to complete:
Analyze recent sales data
Respond to clients' emails
Prepare a presentation for a meeting with stakeholders
To prioritize these tasks, one could take several factors into account.
Deadline: Which tasks have the most urgent deadlines? Tasks with tighter deadlines should be prioritized higher.
Impact: Which tasks have the most significant impact on the company? Tasks directly affecting revenue, client relationships, or the company image should be prioritized.
Dependencies: Are tasks dependent on the completion of other tasks? If so, the prerequisite tasks should be completed first.
Considering these factors, the employee might decide to prioritize these tasks as follows:
Prepare a presentation for a meeting with stakeholders (high impact, upcoming deadline)
Analyze recent sales data (moderate impact, dependencies on other tasks)
Respond to client emails (moderate impact, flexible deadline)
Prioritizing and scheduling are not revolutionary approaches, but execution matters. An expert in the field of organizational psychology is able to help employees learn how to manage their time in the most efficient manner.
Career Opportunities in Industrial-Organizational Psychology
The field of industrial-organizational psychology is growing, offering advantageous wages and many job opportunities. According to the Bureau of Labor Statistics, the average yearly salary of an industrial-organizational psychologist is $105,000, with the top 10% earning $168,000 per year.
A bachelor's degree in industrial-organizational psychology can lead to entry-level positions in human resources, organizational development, and similar fields. However, for more advanced industrial-organizational psychology jobs such as organizational development consultant or human resources manager, a master's degree or doctoral degree is typically required.
What is an example of organizational psychology?
One example of organizational psychology in action is the 360-degree feedback system. In this method, employees receive comprehensive and confidential feedback from their peers, supervisors, and subordinates, as well as self-evaluations.
A successful 360-degree feedback system requires thoughtful implementation and genuine engagement from leaders. To achieve positive outcomes, organizations must involve leaders in the process. Presenting the report in a group setting or one-on-one coaching session, along with context and guidance for interpreting the data, enhances its effectiveness. Providing customized developmental recommendations and ensuring follow-up from talent professionals further improves the likelihood of behavioral change.
In one case study, researchers analyzed the impact of the 360-degree feedback system for PepsiCo, the second-largest food and beverage company globally and the leader in the snack industry, with a workforce of over 285,000 employees worldwide. The organization sought to enhance leadership development using a 360-degree feedback system. The primary objective was to foster consistent leadership behaviors across all markets. To achieve this, ETS, a software development firm, designed a flexible and user-friendly online 360-degree feedback platform to facilitate more effective evaluations for PepsiCo's leaders.
Erica Desrosiers, PepsiCo's Director of Organization and Management Development, reported that employees were highly committed to the program. The company's senior leaders, including the CEO, recognized the value of the 360-degree feedback system, which contributed to its success. This high-level support resulted in response rates consistently above 90%, indicating strong employee and leader engagement and participation in the process. The 360-degree feedback data has played a crucial role in individual development and in promoting consistent leadership behaviors since the 1980s. It remains a central component of PepsiCo's developmental strategy to this day.
Is organizational psychology the same as HR?
Organizational psychology and human resources (HR) are not the same. They share commonalities and often work in tandem to achieve common goals. Organizational psychology is a specialized branch of psychology that focuses on understanding human behavior in the workplace. It applies psychological theories and principles to enhance employee productivity, satisfaction, and overall well-being. Organizational psychologists often conduct research, design training programs, and develop strategies to improve workplace culture and performance.
On the other hand, human resources encompass a broader range of functions within an organization, including recruiting, training, employee relations, compensation, and benefits management. HR professionals play a crucial role in ensuring that the organization maintains a productive, diverse, and legally compliant workforce. While they may collaborate with organizational psychologists to create effective employee programs, HR professionals are primarily responsible for implementing and managing these initiatives. Thus, organizational psychology and HR are distinct but complementary fields that contribute to an organization's success.
Is organizational psychology a good career?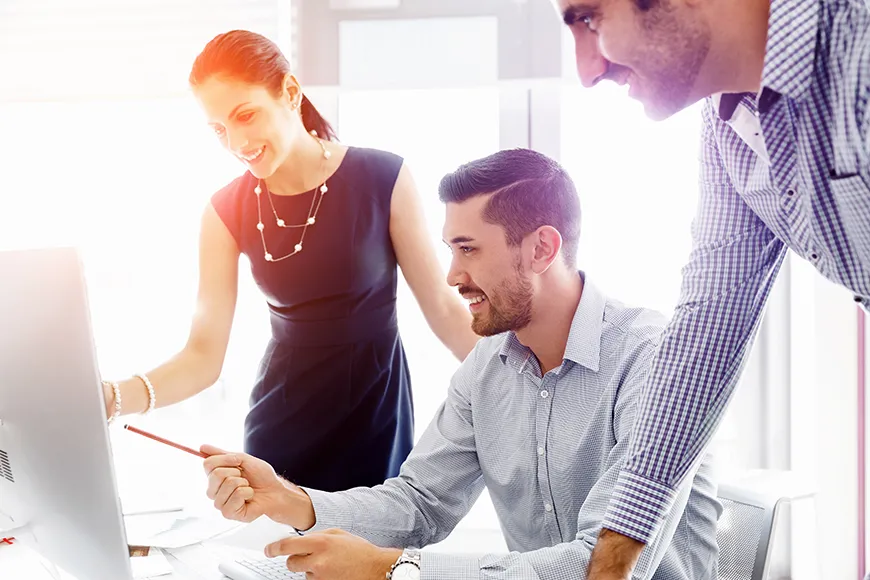 Organizational psychology combined with developmental coaching can be a game-changer when it comes to improving workplace efficiency. By understanding human behavior in the workplace, organizations can motivate employees, create a positive work environment, and effectively manage time and priorities.
Developmental coaching further enhances employee potential by fostering personal and professional growth, leading to a more motivated and skilled workforce. With the right education and training provided by a proper psychology program, you can pursue a rewarding career in industrial-organizational psychology, significantly impacting both employees and organizations.
If you are interested in furthering your career as an expert in organizational psychology, consider checking out our graduate degree program, MBA in Creative Enterprise.
Meridian's MBA in Creative Enterprise is a program designed to hone skills crucial for success in dynamic organizational settings. This holistic business education merges social, technological, and cultural innovation to create impactful, experience-driven leaders.
The curriculum is built around five integrated dimensions: transformative innovation, purpose-driven organizations, regenerating the commons, living systems theory, and generative entrepreneurship. This unique, comprehensive approach equips graduates to excel in our ever-changing world.
You can gain specialized expertise by choosing from a variety of concentrations, including:
Complexity Management
Developmental Coaching
Generative Entrepreneurship
Organizational Development
Transformative Leadership
If you are ready to embark on the journey toward deepening your understanding of human behavior and improving your capacity to implement strategies that increase organizational effectiveness, email an Admission Advisor to learn more about our programs.