Innovative entrepreneurs create and establish new business ideas to generate profit, accomplish company goals, and assist their community.
With applied creativity, these entrepreneurs identify opportunities, develop innovative business models to meet consumer needs or improve market competitiveness, and transform ideas into business success. Innovative entrepreneurs are vital in driving economic growth, creating jobs, and addressing modern societal needs to push the boundaries of progress.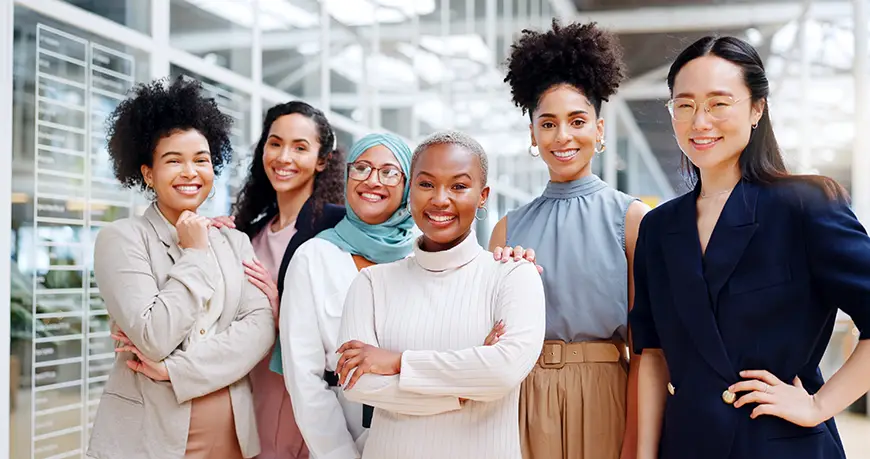 What is the difference between an innovator and an entrepreneur?
There is no set model for what makes a successful, innovative entrepreneur. Some have degrees, while others do not. Some have a history of success, while others may be new to business.
An entrepreneur is simply someone who starts and operates a business. An innovator sees potential in the same business or industry and evolves it to be more efficient, productive, or profitable, seizing competitive advantage. They are purpose at work. And, there are some shared characteristics among the most successful innovative entrepreneurs.
Creativity and visionary thinking
Successful business owners can think outside the box and envision new products or services, or business models that disrupt the status quo. They are genuine creative problem solvers.
Risk-taking
Successful entrepreneurs are willing to take risks and experiment with new, unproven ideas. They understand the concept of trial and error and learn from their failures.
Determination and perseverance
These visionaries keep going despite challenges. They are resilient and determined to see their vision come to fruition.
Opportunity identification
Entrepreneurs who find success have a keen eye for market needs, gaps, and opportunities to run with an innovative idea. They are proactive, not reactive.
Business and technical skill sets
Most entrepreneurs possess essential business acumen and technical skills to turn ideas into reality. They are quick learners.
Confident, obsessive lifelong learners
They have a healthy confidence in their abilities and ideas that drive them to challenge conventions. They are lifelong learners constantly gathering new information and knowledge and engaging unique perspectives.
Networking
Innovative entrepreneurs are master networkers who leverage their contacts for resources. They have the ability to identify cooperative opportunities and are true collaborators.
Though this list is not exhaustive, most entrepreneurs have at least a few of these traits, if not more.
What is an example of an innovative entrepreneur?
Many people and organizations can be considered innovative entrepreneurs. They include Canva and OpenAI.
Canva
Canva is a case study in innovative entrepreneurship. In 2012, three co-founders set out to create an easy-to-use online graphic design platform. Canva pioneered an intuitive drag-and-drop interview and templates that empower virtually anyone to create high-quality graphics, presentations, social media posts, and more—this democratized design.
Canva has significantly disrupted the graphic design software industry and created new opportunities for non-design professionals. The company operates in a freemium model that now boasts over 60 million monthly users from 190 countries. Co-founders Melanie Perkins and Cliff Obrecht have been recognized for their innovative leadership and social-minded vision.
OpenAI
OpenAI is an excellent example of innovative entrepreneurship due to its groundbreaking research, development of AI technologies, and commitment to ethical AI practices. Founded in 2015, OpenAI has been at the forefront of AI research and innovation, aiming to ensure that Artificial General Intelligence (AGI) benefits all humanity.
OpenAI actively collaborates with other tech giants like Microsoft and Google to promote AI safety, continued research, and best practices. They are known for continuously pushing the boundaries of AI and exploring new applications and technologies that can transform industries and solve complex global problems.
Market trends shaping innovative entrepreneurship
The following are some key market trends that are shaping innovative entrepreneurship:
Digital transformation: The rapid pace of digitalization enables new digital business models, platforms, and value creation. Entrepreneurs regularly leverage cloud, AI, IoT, and blockchain technologies to build cutting-edge products, services, and solutions.
Social entrepreneurship: Entrepreneurs prioritize innovative, positive impact and sustainable solutions to address pressing social and environmental issues. Impact investing and ESG factors are gaining prominence.
Circular economy: Sustainable production, circular resource flows, renewable energy, and waste reduction spur eco-innovation.
Collaborative innovation: Co-creation, crowdsourcing, partnerships, and open innovation approaches enable entrepreneurs to tap collective knowledge and capabilities.
Inclusive entrepreneurship: The democratization of entrepreneurship is opening up innovations for women, minorities, rural populations, and underserved communities.
Lean startups and agile development: Iterative product development, rapid prototyping, customer development, and data-driven iterations help startups create innovative ideas and validate them faster.
Democratization of knowledge and technology: Open source platforms, DIY innovation tools, and maker spaces enable broader access to resources for experimentation.
Growth capital access: Alternative financing models like crowdfunding, accelerators, incubators, and angel investors are expanding capital sources for early-stage ventures.
The role of innovation in driving economic growth
Innovation results in entrepreneurship and knowledge diffusion. New innovative firms enter the market daily with innovative business ideas. Innovation requires investment in human capital development and skills training to build a capable workforce adept at creating and using new technologies. This expands employment, production capability, and efficiency.
In addition to potentially creating entirely new markets and fueling growth in output, jobs, and revenue, spillover effects that benefit other companies across the supply chain and industry can amplify productivity gains. This spillover may include infrastructure upgrades such as complementary facilities or logistics. These innovations may also enhance societal quality of life through improved healthcare, education, environmental sustainability, and other social domains.
Tips for the aspiring innovative entrepreneur
If you are an aspiring innovative entrepreneur, these tips will help you start down the path to a successful new business.
Cultivate creativity and innovative thinking
Constantly challenge yourself to think beyond the box or entirely remove the box from your innovation equation. Explore new ideas and engage in activities that stimulate your creativity and expose you to different perspectives.
Pursue your passion
Focus on building a business around something you genuinely care about. This will help you stay motivated and "committed to the cause."
Develop your network
Connect with other entrepreneurs, mentors, and industry experts. Ask for insights, advice, and resources. Networking can open doors to new opportunities and collaborations.
Embrace risk-taking
Learn from your failures. Understand that innovation involves taking risks and experimenting with new and innovative products or services.
Focus on solving problems
Stay obsessed with understanding problems, their finite details, and finding solutions. Research, gather data, and talk to potential customers to get a deep dive into the issues you aim to solve.
Readers are leaders
Continuously develop your skills and knowledge in your chosen field and business. Stay ahead of hype cycles, industry trends, and foreseeable advancements.
Build a diverse and talented team
Surround yourself with those who share your vision and possess complementary skills. Your team is your family that will help you overcome challenges and achieve your goals.
Always be adaptable and flexible
Entrepreneurship brings with it uncertainties and changes. Be ready to adapt your strategies and business models to stay competitive.
Have a solid business plan
Your business plan will keep you focused on your goals and how you allocate resources effectively. A good business plan will also attract investors.
Stay persistent and resilient
Overnight successes are rare. Keep the "stars out of your eyes." Be committed to your vision and prepared to overcome obstacles along the way.
Conclusion
The world's innovative entrepreneurs are our changemakers for progress. Their impact on society, the economy, and the environment is limitless, and they constantly drive us toward a better and more sustainable future.
Successful entrepreneurs are not born. They are created. Meridian University's MBA in Creative Enterprise is on the leading edge of graduate business education. The program focuses on developing students personally and professionally. It provides graduates with a higher level of strategic understanding that applies to all types of innovative entrepreneurship.
We invite you to check out the program's details and speak with a Student Admissions Advisor today!
References: