The field of therapy has existed in various forms for centuries, from the shaman and the healer of ancient times to modern-life therapists. The therapy aims to help people find the inner capacity to overcome their struggles and issues to achieve an optimal mental state.
Today, there is an increasing demand for therapy services due to the fact that there are tens of millions of people suffering from mental health issues.
Data shows an increased demand for mental health professionals in the United States.
According to the Bureau of Labour Statistics, the employment growth rate for substance abuse, behavioral disorder, and mental health counselors is projected to grow 23% from 2020 to 2030, much faster than the average for all occupations.
If you are interested in helping others and understanding the depths of the human psyche, this article is for you.
Read on to learn about the steps involved in becoming a licensed therapist, the education and certification requirements, and how to gain clinical experience.
How to Become a Therapist: Education, Licensing, and Certification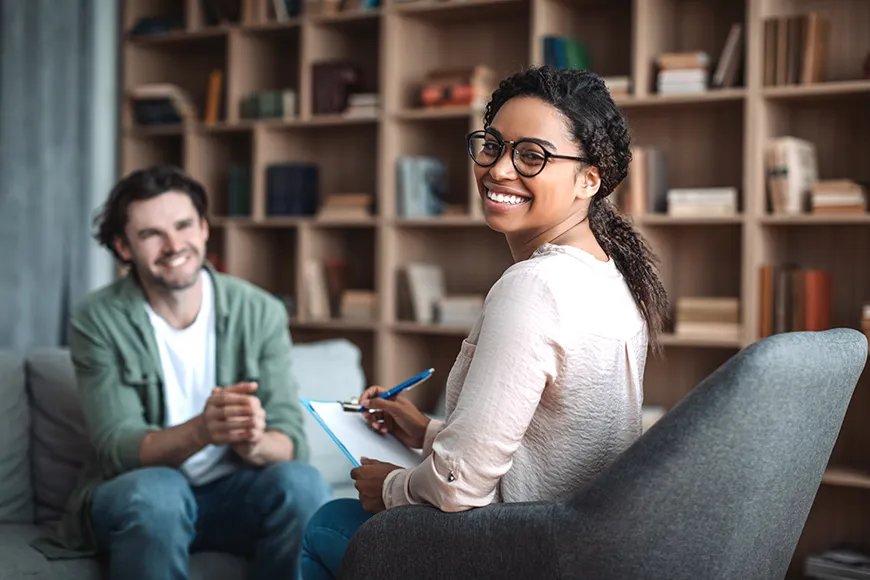 How do I get started as a therapist?
1. Bachelor's Degree in Psychology
The first step in becoming a therapist is earning a Bachelor's degree. Working as a clinical psychologist doesn't require you to have a B.S. in psychology, but the coursework related to it would help you a lot.
As a therapist, knowing about topics such as statistics, personality theory, and behavioral genetics is essential to develop a robust understanding of human psychology.
Understanding the ideas that are presented in Bachelor's degree coursework will give you the capacity to later grasp the various therapeutic frameworks that exist. These frameworks could include Cognitive Behavioral Therapy, Psychodynamic Therapy, and Acceptance Commitment Therapy.
You can pursue a Bachelor's degree in Psychology or topics closely related to it, such as social work or anthropology, but the knowledge should be useful for your future career as a therapist.
Making a plan and figuring out from point one what path you want to take would be best, but even if you only have a vague idea, it can help. Because then you can customize your higher education to nourish your aspirations.
2. A Graduate degree
Most licensures require at least a master's degree. Similarly, the clinics that provide therapists with job openings typically request their applicants to have a master's degree.
Therefore, a master's degree provides you with more job opportunities and could help you climb the ranks of your profession. Based on data from LBS, the median salary of a mental health counselor is $48,520 per year, but the top 10% earned over $77,980.
A master's program typically takes two years two complete, and it can provide students with opportunities to gain clinical experience, which is fundamental for becoming a therapist.
In addition, you can also pursue a PsyD or a Ph.D. in a specific area of psychology to further your education and expand your work opportunities. Generally, a PsyD program takes around 4-6 years to complete, while a Ph.D. program can take 5-7 years or longer.
3. Clinical Experience
In order to become a therapist, you must obtain a certain number of supervised clinical hours. The number of clinical hours required will vary depending on the state and the type of therapy you are interested in.
For example, marriage and family therapists are mental health professionals who work with individuals, couples, and families to address a wide range of emotional and behavioral issues. This potential career choice might be good if you want to provide therapy services to couples.
In order to become a Licensed Marriage and Family Therapist (LMFT) in California, a student has to complete a minimum of 3,000 hours of supervised practice during a period of at least 104 weeks.
Gaining clinical experience is critical for students because as they work with licensed therapists, they can have the opportunity to apply their theoretical skills in real-life scenarios.
4. Licensing and Certification Requirements.
After finishing the required education and obtaining the necessary number of clinical hours, you have to obtain a license to become a therapist.
Licensing requirements will differ depending on the state, so it is very important to research them thoroughly. To obtain a license, you must pass a state-administered licensing exam, complete a certain number of supervised clinical hours, and meet the educational requirements.
For example, to earn a Marriage and Family Therapist (LMFT) license in California, you need to:
Have at least a master's degree (minimum 60 semester hours) in marriage and family therapy or a closely related field with an emphasis on marriage and family therapy.
Earn a minimum of 3,000 hours of supervised experience over a period of at least two years (104 weeks)
Register as an Associate Marriage and Family Therapist (AMFT) (out-of-state applicants should use the appropriate application).
Pass the California Law and Ethics Exam.
Apply for LMFT licensure and permission to take the LMFT Clinical Exam (LMCE) using either the in-state or out-of-state application.
Request and receive an LMFT license.
In addition, you can earn certifications that would prove your proficiency in a specific field. Some people consider this an optional step, but it can be a leverage you could use to secure more job opportunities for yourself. Here are certification examples that are available for different types of therapists include:
Board Certified Behavior Analyst (BCBA)
Certified Grief Counseling Specialist (CGCS)
Credentialed Alcoholism and Substance Abuse Counselor (CASAC)
After completing your graduate studies, you must research the licenses required for different career paths as a therapist and pursue the one that aligns most with your education and interests. You can also complete a certification that will provide an advantage in the competitive job market related to mental health.
Is it hard to make it as a therapist?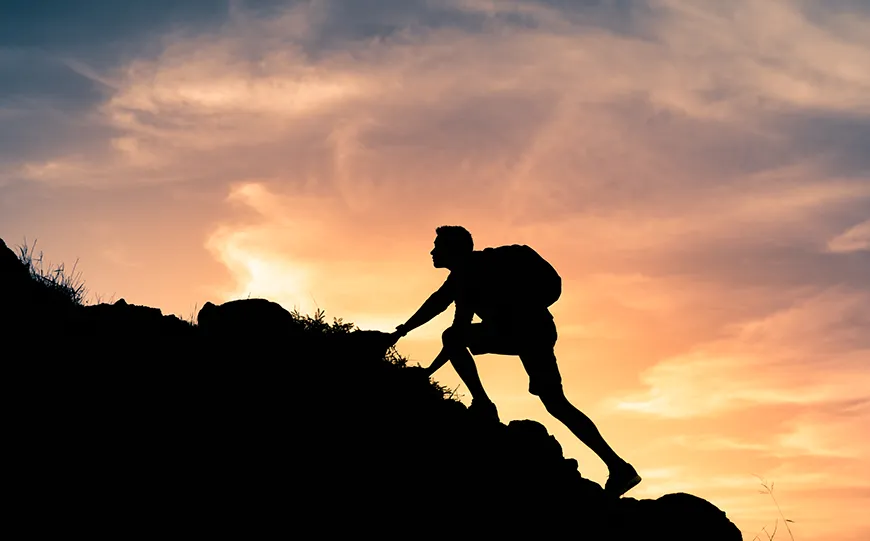 There are a lot of steps to becoming a licensed therapist. You need to get the proper education, gain clinical experience, and pass a licensing exam. You will need to dedicate many years and a significant amount of effort to pursue this profession.
However, once you are licensed and become established as a professional, you will have a well-paid and rewarding career that involves helping others improve their mental health.
As a licensed therapist, you can work in various settings, including hospitals, schools, mental health clinics, and others. You can also choose to specialize in a particular area of therapy, such as trauma counseling, addiction counseling, or acceptance commitment therapy. Once you have deeper expertise in one therapy area, you can provide specialized services to your clients.
For example, a therapist specializing in Acceptance Commitment Therapy (ACT) might work with clients suffering from anxiety or depression to help them accept their emotions and develop mindfulness skills.
One example of a technique that a therapist trained in ACT could use is called "Cognitive Defusion." This technique involves observing your thoughts and emotions detached, allowing you to eliminate or lessen their influence.
Overall, becoming a therapist is a hard endeavor, but it can be a worthwhile pursuit for those who desire it.
What is the best degree to become a therapist?
The best degree for you is the one that aligns the most with your interests.
Hearing all the steps involved in becoming a therapist, you might now wonder about the best strategy to increase your potential success and build a reputable career as a mental health professional.
Choosing a degree program should be a decision that comes after a serious session of introspection and research about your potential options. You shouldn't rush into it and carefully plan out all the details involved in chasing your ambitions.
In addition, it is worth noting that furthering your education by pursuing a graduate degree will help you obtain a license as a therapist easier, and provide you with more career options.
If you are ready to explore the inner depths of the mind and become a pillar of support for those suffering from mental ailments, consider checking out our Psychology Programs Overview or email an Admission Advisor to learn more about our programs.